---
Growing greens in an EarthBox® system has never been easier! We chose five popular healthy greens in this assortment to give you the opportunity to grow a variety of different plants. With our thoughtfully curated Healthy Greens Seed Assortment, you'll be right on your way to growing perfect Organic Romaine Lettuce, Spinach, and three herbs—including parsley, basil, and dill!
Our recommendation is to grow three EarthBox® gardening systems with the included seeds: one system with lettuce seeds, one system with spinach seeds, and one system with 3 mixed herb seeds.
---
WHAT'S INCLUDED
5-pack Seed Assortment (each pack contains approx. 50 seeds):

Organic Romaine Lettuce - Super Jericho MTO
Organic Spinach - Corvair F1
Organic Genovese Basil - Prospera Premium F1
Untreated Parsley - Peione
Organic Dill - Bouquet

---
Should I use the Mulch Cover when sowing seeds in the EarthBox® system?
Yes! The Mulch Cover is what protects the growing environment of the entire EarthBox® gardening system. It helps conserve water by limiting evaporation, and it prevents heavy rains from washing away all the plants' fertilizer and nutrients. The Mulch Cover also protects the growing media from weeds and pests. Place the cover on the system before sowing seeds and leave it on until your growing season is over and you're ready to remove the plants and clean up the growing system.
Always use the Mulch Cover, even in very hot climates. If your local temperatures are typically in excess of 85° F during the peak growing season, place the Mulch Cover on the system with the white side facing up. This will reflect the sun so small plants don't become stressed from the heat.
For cooler climates where early growing season temperatures may still be too cold for some plants, place the Mulch Cover on the system with the black side facing up. This will attract the sun and warm the growing media to help small plants grow.
How do I sow seeds in the EarthBox® gardening system?
Set up your EarthBox® container garden according to the instructions. When it comes time to put plants or seeds in, be sure to cut X's where you will be sowing the seeds.
Using some twigs, popsicle sticks, bamboo skewers (or similar type of sticks), hold the flaps of the X's back and sow 2-3 seeds in each spot. Do not bury seeds too deep or pack the media as you bury them. A good rule of thumb is to bury seeds only as deep as the size of the seed, lightly covering with seeding mix. For most greens, you should just sprinkle a few seeds on top of the media. Remember that most seeds need some heat to germinate, so place the system in a warm, sunny spot. If the growing media appears to be dry from being in the sun, mist the seeds to provide moisture.
Once seeds germinate, thin them so that only the strongest plant remains in place. When the plant is large enough (3"-5" tall), remove the sticks from the Mulch Cover flaps and fold them back in place at the base of the plant.
Do you ship outside the United States?
We do not ship seeds outside of the United States.

---
The EarthBox® gardening system is a low-maintenance, fail-proof design determined to fill the needs of the home gardener of any skill level. Since not all home gardeners live in the same area, there are many challenges to finding the perfect container gardening solution for everyone, but the EarthBox® system does just that. Combining science—and a ton of testing—with great design and American manufacturing, the EarthBox® container gardening system was designed by applying a variety of tried-and-true commercial growing concepts to a small footprint to produce better results than traditional in-ground gardens. The following diagram explains in detail how the EarthBox® growing system components all operate together: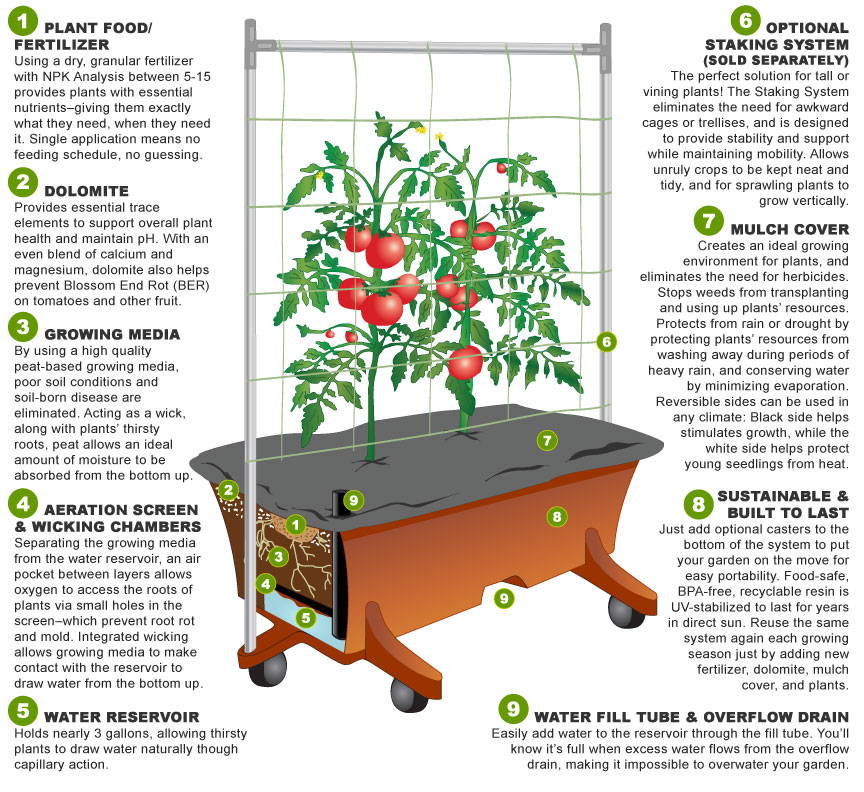 ---
Check out these articles from our blog to learn more about growing tomatoes in an EarthBox®:

---
| | |
| --- | --- |
| Order Total | Contiguous US* |
| Value Bundles & Garden Stand* | |
| | |
| | |
| | |
| | |
| | |
| | |
| | |
| | |
| | |
*For shipping to AK, HI, US territories, Canada, APO/FPO addresses, and for orders over $1,000, please contact Consumer Care. Note that we do not ship to PO Boxes. All value bundles + the EarthBox® Garden Stand ship free within the contiguous US; however, please note that you will still be charged a shipping fee against any items in your cart that do not qualify for free shipping based on the above table.
When will I receive my order?
All items are shipped directly from our Lancaster, PA headquarters. Orders are typically processed and shipped within 1-2 business days via FedEx Home Delivery. An estimated delivery date is provided during checkout. You can also view this map from FedEx to estimate how long a shipment will take to arrive to your location after it leaves our warehouse. We do not currently offer expedited shipping options.
For more info, please review our Shipping Policy and Return Policy in their entirety.