5 Great Ways to Use Your Pumpkin Seeds After Harvest
---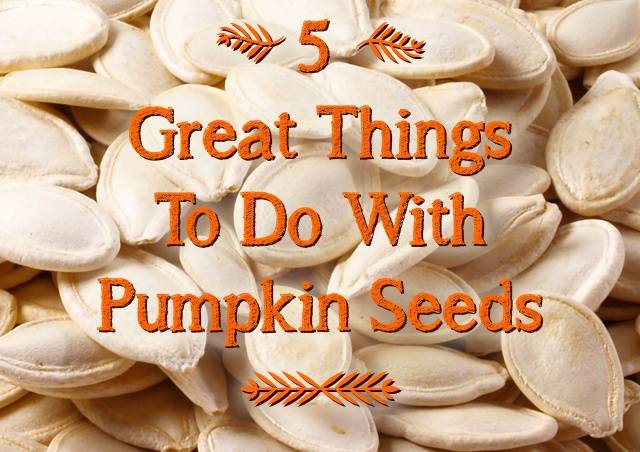 You may be sick of hearing it, but winter is coming (thanks, Game of Thrones). You've reaped your harvest of gourds and winter squash, and the pumpkins were a huge hit for decorating. But now what do you do with them?
Although you may be tempted to take them to the trash, a pumpkin's usefulness doesn't stop at the end of autumn. The seeds of pumpkins are one of the most versatile seeds you can find. Grab some kiddos or friends, and prepare yourself for a mess. It will be well worth it to harvest those seeds, though.
Here are five useful ideas for how to get the most out of your pumpkins each and every year.

5 Ways to Use Pumpkin Seeds
Oh Snap! Pumpkin Seed Brittle
Hankering for something sweet and salty? Got the munchies for something crunchy, but don't want to break your calorie bank for the day?

Pumpkin brittle is delicious and full of nutrients! Pumpkin seeds are one of the best foods you can eat. They pack a surprising amount of protein, and they're chock full of vitamins and minerals. When made ahead, pumpkin seed brittle is perfect for a work snack because it is easy to transport, and it can be made ahead of time and stored.
Roast Away! Toasted Pumpkin Seeds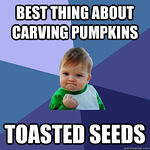 Not a huge brittle fan? No problem! Toasted pumpkin seeds are great for snacking (alone or in granola), or garnishing dishes like soups and salads.
There are tons of recipes out there to suit your tastes or for the dish you are making, or see our easy recipe, below. If you're baking muffins or bread, throw a handful of toasted pumpkin seeds into the batter. It will give your baked goods more nutritional value and add a nice crunch!
Whip It! Pumpkin Seed Butter
With the rise in nut allergies, it can be hard to figure out how to replace peanut butter. Even if you're not allergic, maybe you're just looking for a healthier option to regular store-bought nut butters. There is a solution: pumpkin seed butter. You'll need a good blender or food processor to really grind the seeds and mix in the other ingredients.
Sharing Is Good, Too
Try as you might, maybe you just can't get into eating pumpkin seeds. That's okay...but you don't have to let them go to waste. Create a bird-watching habitat in your yard in a few easy steps. You shouldn't season the seeds or roast them; just scoop them out of the pumpkin and lay them out to dry in a sunny space.
When the seeds have dried, place them into a bowl or in your birdfeeder for your feathered friends to enjoy!
Bring It Full Circle...Replant
Nothing is more giving than nature. You just have to know how to keep the circle of life going! If you enjoy growing pumpkins each and every year, save yourself some money and keep some seeds for next year's planting.
Rinse the seeds once you've removed them from the pumpkin, and dry them on paper towels. Try to select the biggest seeds to keep for planting. When you lay the seeds out to dry, make sure they're not touching because they will stick together. Find a dry spot that is away from direct sunlight (sun can damage the seed's ability to grow) and let sit for one week.
When the seeds are completely dried, package up in baggies or jars, label 'em, and save for next year!

Recipe: Toasted Pumpkin Seed
Toasted pumpkin seeds make a delicious snack. Use this basic recipe or try adding in a few different spices like chili powder, yellow curry powder, or smoked paprika. If you want to sweeten things up, think "pumpkin spice and everything nice" by adding pumpkin pie seasoning with a bit of honey.
Ingredients
1 cup pumpkin seeds, rinsed and dried
3-4 tablespoons olive oil
1/2 teaspoon sea salt
Instructions
Preheat your oven to 375° F, and add all ingredients to a mixing bowl.
Toss pumpkin seeds to coat with olive oil and salt. Add any other optional spices and toss.
Spread evenly on a baking sheet and bake for 11-14 minutes, or until seeds are pale gold in color.
Be sure to give the pan a nice shake about halfway through the cooking time, around 6-7 minutes.
Remove from oven, and let stand for a few minutes. Serve warm or at room temperature, or store in a cool, dry container for later use.

What other useful things have you done with pumpkin seeds?
We'd love to hear your ideas in the comments section, below!