Combining Crops in the EarthBox®
---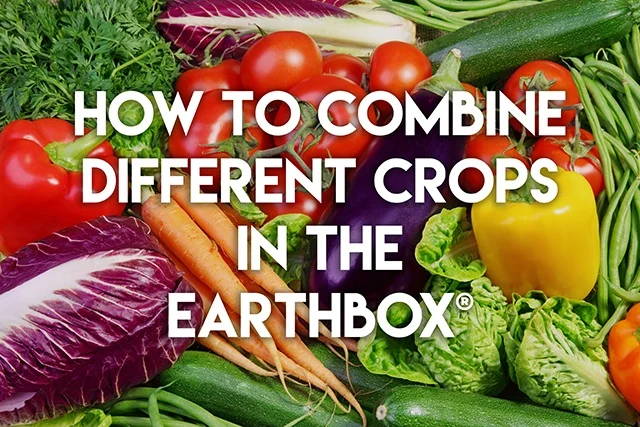 At first glance, companion planting may seem simple. But as it turns out, you can't just throw any two species together in planting boxes; you have to know which combos work and which don't, or you might end up with a gardening disaster on your hands.
While you may seek companion planting guidance from your local extension office or independent garden center, here at EarthBox we've been gathering feedback from experienced growers and experimenting with companion planting boxes in our company gardens for many years. We think we have some useful findings and extra information to help guide you through these fun gardening endeavors.

General Guidelines for Companion Planting in Gardening Containers
Never overcrowd the planting box
When planting two different plant types in one planting box, plant half the amount of recommended plants according to the planting guides. For example, when growing eggplants in an EarthBox® Original, we recommend planting 2 plants per box, and for peppers it's 6; so, if you want to grow eggplants and peppers in one planting box, you would plant 1 eggplant and 3 peppers.
Combine plants that have similar sizes and needs
Try to combine plants that have the same growth rate. Research the habits and requirements of the plants before combining them, such as sunlight requirements, watering needs, root systems, and maturity height.
Try different varieties to see what you like best
Choosing different varieties of the same type of plant will allow you to create your own personalized garden sampler. The recommended number of pepper plants is 6, so choosing 6 different pepper varieties—such as Lafayette Yellow, Orange Delirio, Lilac Bell, California Wonder, Sweet Italian, and White Cloud—would yield quite a colorful variety with different flavors and uses.
Combination Successes
Tomatoes are by far the most popular plants grown by EarthBox® gardeners, but they can be difficult to grow with other plants. You should not combine an indeterminate tomato variety with any other plants. For best results, we recommend choosing a determinate variety (usually labeled as bush, dwarf, patio, or container) when planting a companion planting box with tomatoes. Here is a list of plants that get along well with them:
Eggplant
Peppers
Bush beans
Okra
Basil
Other effective combinations without tomatoes include:
Cucumbers and cantaloupes
Broccoli and cauliflower
Yellow squash and Zucchini
Patty Pan squash and Zucchini
Eggplant and peppers
Thyme, oregano, and rosemary
Sage and basil
Dill, parsley, and chives
Spinach and leaf lettuce/field greens
Cantaloupes and honeydew melons
Butternut squash and cantaloupes
Radishes and green onions
Combination Failures to Avoid
Not every plant combination works in the EarthBox® gardening containers. Here are a few we recommend avoiding:
Tomatoes and cucumbers (the cucumbers grow faster)
Cucumbers and beans (the beans got lost and died)
Summer squash/zucchini with bell peppers (the squash grew monstrous leaves that blocked the light)
Combination Themes
If you're particularly fond of a certain region's style of cooking, but lacking space for a full garden, try mixing up your favorite ingredients in one or two companion gardening containers.

Cocktail EarthBox® Garden:
Different types of mint, such as the chocolate spearmint variety, add a twist on the classic Mojito and Mint Julep. Cucumbers can provide endless coolers all summer long. Basil or lavender can be used to infuse fresh lemonade. Adding vodka or gin to these refreshing drinks, optional.

Mediterranean EarthBox® Garden:
Make more than just tomato sauce by mixing up your garden with artichokes, zucchini, and eggplant—all popular veggies used in Italian, Spanish, French, and Greek cooking. Other staples include sweet peppers, garlic, fennel, and cucumbers. What better way to season your meal than with fresh herbs such as oregano, basil, and thyme from an EarthBox® Junior herb planter box?

Caribbean EarthBox® Garden:
Island cooking consists of different types of stew, many with a tomato base. Add in okra, spinach, eggplant, sweet bell peppers (for some heat use Scotch Bonnets or Habaneros), and beans for a hearty meal that's easy to make in a slow cooker. Other popular essentials include pumpkin, spinach, cucumbers, chard, and corn.
Central & South American EarthBox® Garden:
Spice up your garden with a variety of popular peppers so hot they'll make you the coolest gardener on the block: Poblano (ancho chili), Anaheim, Serrano, Jalapeño (chipotle chili), Cayenne, Habanero, Aji Rojo, or Chilaca (Pasilla). Additional less spicy crops—yet flavorful—include corn, tomatoes, cilantro, beans, squash, sunflowers, and jicama.

African EarthBox® Garden:
Popular family-style soups and stews are crafted from various African countries' crops that consist of eggplant, okra, beans, spinach, onions, coriander, parsley, and pumpkins. Gourds, cucurbit seeds, and cumin are also contained in this continent's popular dishes. Harissa, a pepper-based paste used to season meat and vegetables (commonly used in Morocco), can be made easily at home—where you get to control the spice and heat.

Eastern European EarthBox® Garden:
Pickled veggies are popular in this region of the world, as are root vegetable mashes and soups. Try pickling beets, beans (add dill for added flavor), carrots, cauliflower, celery, and radishes—all of which can be easily grown in different companion planting boxes. Mashes of rutabagas, turnips, and parsnips flavored with onion are also popular; as is pea soup. Fermented cabbage, known as sauerkraut, is a versatile dish that can be eaten alone as a side dish or used a condiment on hearty meat-based meals.
Scandinavian EarthBox® Garden:
Similar to Eastern Europe, northern European countries also enjoy pickling their produce. Due to the colder climate, cool-weather vegetable and herb crops are a staple in Nordic diets. Mashes of rutabagas, turnips, carrots, and parsnips flavored with onion are common. Cabbage, kale, and Brussels sprouts go from basic to tasty with dill, chives, fennel, and thyme.
Asian EarthBox® Garden:
Asian stir-fry is a great way to get an abundance of veggies into a single serving. Common ingredients include snow peas, Bok Choy, Napa cabbage, green onions, white onions, bell peppers, fingerling eggplants, and carrots. Add even more flavor with garlic, chives, lemongrass, and Thai basil.

Middle-Eastern EarthBox® Garden:
Shish kebabs are a delicious grilled treat, but did you know they originated from Middle-Eastern cuisine? The best part about them is that you can customize each one to your liking. Traditional Armenian kebabs are meat-based, but you can easily make yours with eggplant, squash, onions, tomatoes, and carrots—all staples in Middle-Eastern diets. Parsley, thyme, garlic, and cumin can be used in "Mezze" dishes—small shareable plates—to provide a burst of flavor and freshness.
These companion planting boxes prove there's no reason to be intimidated by trying another region's cuisine by making it easy to grow nearly any style garden!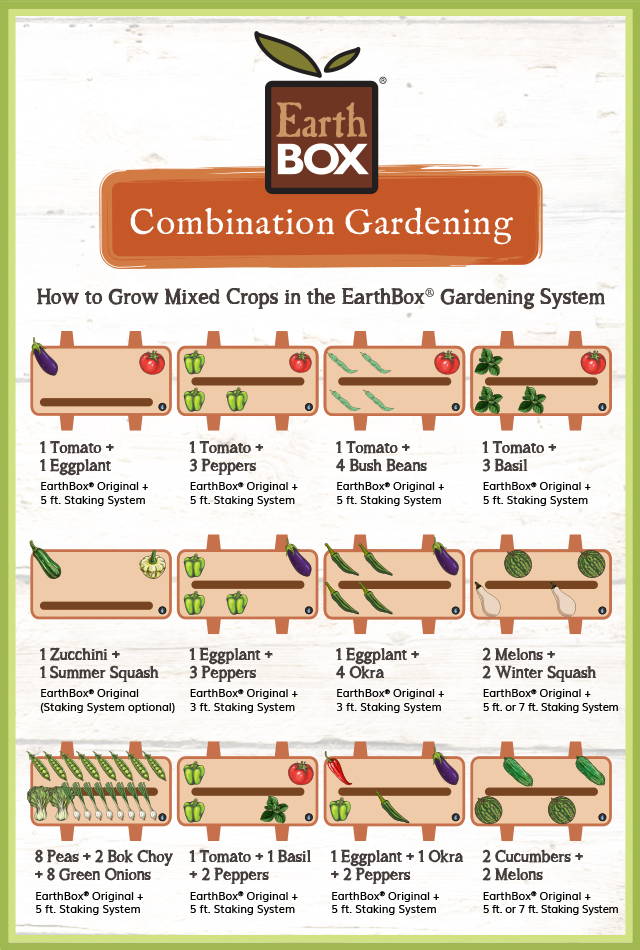 Tell Us: What combination box successes or fails have you had with your own EarthBox® garden?
Share your favorite regional recipes below in the comments!