How EarthBox Found a Home at Novelty Manufacturing Co.
---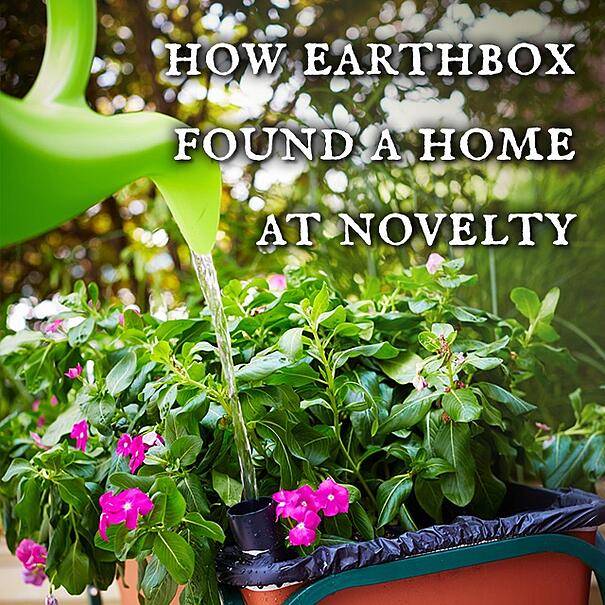 People often ask us how the EarthBox® gardening system came to be. We're pleased to tell you about the history of EarthBox® and how it eventually found a home in Lancaster, Pennsylvania.

EarthBox: The Beginning
Started by the late Blake Whisenant, the EarthBox Garden Center (formerly known as the EarthBox Research Center) is located at the Whisenant family's 2,000-acre tomato, citrus, and cattle ranch—Whisenant Farms in Ellenton, Florida. The holder of a business degree from the University of Florida, Blake was a member of a Florida family whose agricultural legacy stretches back to the turn of the last century. The Whisenants have been growing tomatoes commercially since 1901, and Blake's late father, Robert (Bob), is honored in the Florida Agriculture Hall of Fame.
Blake originally invented the EarthBox concept many years ago with his friend from a neighboring farm, the late Dr. Carroll Geraldson. It took several years of trial and error to decide what would work best, but its development really took off in 1992, when weather associated with Hurricane Andrew dumped 19 inches of rain on Whisenant Farms and wiped out his entire tomato crop. Blake and Dr. Geraldson used this experience, their knowledge of farming, and determination to develop the EarthBox® growing system.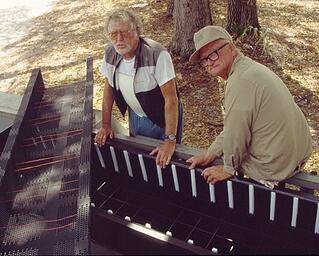 They soon teamed up with the late Mickey Lynch, who was a plastics developer and President of the former Laminations, Inc. in Scranton, PA; and together they designed and manufactured the first generation of the Original EarthBox® growing system. The first generation boxes—while primitive—were highly functional. Blake, Dr. Geraldson, and Mickey thought these were the perfect solution for commercial farming because of how well they were performing, and eventually had the product lab-tested—and proven—at the University of Florida and Penn State University. Some of the first-manufactured EarthBox® growing systems are still in use today at Whisenant Farms and Geraldson Community Farm in Manatee County, Florida!
Although the Whisenant family farmed tomatoes, Blake's work with the EarthBox gradient gardening system included his own experiments with many crop varieties (even citrus trees), hence the "Research Center" part of the name. Through years of trial and error, Blake was able to determine the ideal number of different plants in each system.

International Success With EarthBox
Soon after manufacturing began, the product became more of a hit with homeowners as an alternative to traditional in-ground gardening—and a consumer-based business was born in 1994; based out of St. Petersburg, Florida. It didn't take too long before the manufacturing demand in Pennsylvania ramped up, so the decision was made to bring the consumer business closer to manufacturing and marketing in Scranton, to Laminations, Inc. headquarters.
"The EarthBox" became quite the success over the next decade, so much so, that the second-generation EarthBox® gardening system was created in 2005—and included customer requests and ideas for a sleeker design with better drainage, integrated mobility with casters, a trellising option with the Staking System, worry-free watering with the Automatic Watering System, and the addition of 2 new colors: Terracotta and White.
In 2006—with Mickey's oldest son, Michael, now the President of Laminations, Inc.—the EarthBox® Garden Kit made its debut into the retail channel, eventually landing in more than 2,000 independent garden centers and mid-size retailers nation-wide.
The next several years saw steady growth with the addition of the garden stand, protective covers, decorative veneers, more color options, and a new product for growing herbs and lettuces—the EarthBox® Junior. Online ordering was becoming increasingly popular, and paper catalog orders remained steady. EarthBox® gardening systems were being used in schools, community gardens, and with non-profit organizations involved in humanitarian efforts overseas. The EarthBox Company even began selling to retail channels across Europe, Canada, and Australia.

Transition in Scranton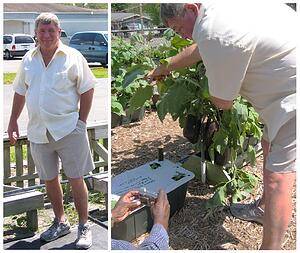 Sadly, Mickey Lynch passed away unexpectedly on April 22, 2012. With Mickey's passing came change within the company. In January of 2013, EarthBox was made into its own entity: EarthBox, Inc. Unfortunately, EarthBox, Inc. was barely able to stay afloat apart from its parent company. About a year later, Laminations, Inc. was sold to Simona America, a diversified plastics manufacturer. The search was on to find a trusted company within the Lawn & Garden industry for EarthBox—one that had a long history and a deep understanding of American manufacturing. . . and one that would carry on EarthBox Inc.'s legacy of superior customer service, and ability to manufacture quality products. The answer: Novelty Manufacturing Co.

A New Home for EarthBox

On a very hot and sunny July 1, 2014, Joe DiMeo and Mark Bolt—President and Vice President of Lancaster, PA-based Novelty Manufacturing Co.—made an appearance at EarthBox Inc.'s Scranton, PA office . . . with the official announcement they had just acquired the EarthBox® brand and assets, and all operations were going to be moved to their facility over the next month.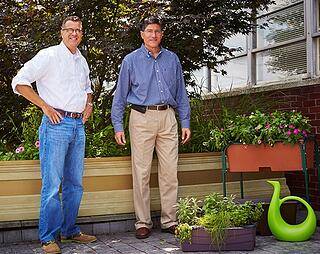 Novelty Manufacturing Co. is a reputable name within the Lawn & Garden Industry. With an extensive history dating back over 95 years, they understand a good thing when they see it. Novelty Manufacturing Co. got its start in 1922, making metal cookie cutters and toy "novelties" such as sheriff badges. The metal cemetery vase and metal flowerboxes are some of the first floral and garden offerings that launched Novelty into the Lawn & Garden Industry. In the 1980s, Novelty got into plastics manufacturing—making urns and kettle planters, flowerboxes, basic 2-gallon green watering cans, and pink flamingo lawn ornaments. Today, Novelty offers a large array of quality USA-made planters, watering cans, and décor items; as well as a high-end imported line of sub-irrigated decorative planters.
Joe and Mark made a point to speak with every employee at EarthBox, Inc. the day of the acquisition, as did Michael Lynch. Nearly every EarthBox employee assisted over the next month with relocating operations to Novelty's office and manufacturing facility 2½ hours south in Lancaster. EarthBox did not have that many direct employees, but several were offered positions with Novelty—two accepted the offers, and are still with Novelty today. (Mark Bolt, Vice President - left and Joe DiMeo, President - right.)

The Future of EarthBox
Since Novelty acquired the EarthBox® brand, there have been several positive changes. One of the first things the new owners did was a quality audit. Multiple items that were previously purchased from China, would now be purchased in the U.S.A.; namely the Garden Stand and Staking System. Early in 2016, Novelty introduced a new style to the EarthBox® family: The EarthBox® Root & Veg—a deeper, square-shaped gardening system that specializes in growing either a single tomato plant; or root crops such as carrots, parsnips, and rutabagas.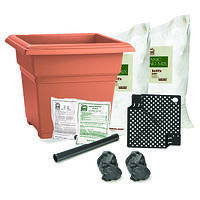 Despite some customers' concern about Novelty Manufacturing Co.'s acquisition of the EarthBox® brand, Novelty is not a big corporation where the brand or quality can become lost. Much like the previous employees at EarthBox, Inc., those here at Novelty interact daily with every team member from all aspects of the business: manufacturing, packing and shipping, maintenance, and the office staff—including our President and Vice President! Nearly everyone here is a home gardener and has embraced EarthBox with open arms. The folks at Novelty love the idea of carrying on the former EarthBox Inc.'s traditions—like an EarthBox employee garden—where planting experiments can be conducted, produce shared among the employees, and donations are made to local food banks.
Novelty recognizes the growing need and desire for people to easily and successfully grow their own food. With that need in mind, Novelty promises continued success with additional improvements, innovative ideas, and new products on the horizon for the EarthBox® brand.
---
Did You Know?
Some of the first EarthBox® growing systems were constructed from concrete and wood.
The registered trademark name "EarthBox" is actually not a noun—it's an adjective used to describe a noun.
Despite how it looks, Lancaster (Pennsylvania) isn't pronounced Lan-caster. . .it's pronounced Lank-a-stir, and is known as the "Garden Spot of America."
Blake Whisenant received the G.B. Gunlogson Award from the American Horticultural Society, and was inducted to the Florida Agricultural Hall of Fame for his invention of the EarthBox® growing system.