---
EarthBox® Tomato & Veggie Boost is a weekly calcium nitrate additive that delivers a nutrient punch to tomato & veggie plants throughout their lifecycle to protect against Blossom End Rot (BER). BER is a plant disorder that affects Nightshade crops: peppers, eggplants, and especially tomatoes. You can learn more about BER by reading our blog article.
We recommend using our Tomato & Veggie Boost with our Replant Kit to grow the healthiest and most bountiful crop of tomatoes and veggies in your EarthBox gardening system.
To use our Tomato & Veggie Boost, simply put 1 teaspoon down your EarthBox water fill tube 1 time a week. For best results, choose the same day each week and apply it during the evening.
---
WHAT'S INCLUDED
½ lb. bag of EarthBox® Tomato & Veggie Boost (calcium nitrate, a weekly additive)

---
Do you offer quantity discounts or bulk pricing for multiples?
Yes! Our Buy More & Save pricing works as follows for our Tomato & Veggie Boost.
Buy 2-5 and get 10% off
Buy 6-11 and get 20% off
Buy 12 or more and get 30% off
Plus get FREE shipping on orders over $149 or with any Value Bundle (within the Contiguous USA).
How do I apply the EarthBox® Tomato & Veggie Boost?
The EarthBox® Tomato & Veggie Boost (calcium nitrate) is an additive that can greatly reduce or eliminate the onset of Blossom End Rot (BER) on tomatoes & veggies grown in the EarthBox® gardening system. One time per week, measure 1 teaspoon and apply it to the water fill tube. It is best to choose the same day each week for consistency, and to apply it in the evening. Do not apply more than recommended.
How much EarthBox Tomato & Veggie Boost do I need?
Our ½ lb. bag should be enough for 1 growing season per EarthBox gardening system.
Do I really need to use a calcium nitrate additive to prevent Blossom End Rot?
While we recommend using our Tomato & Veggie Boost or similar product to significantly reduce the occurrence of Blossom End Rot, the choice is yours. Your Nightshade crops may not experience BER if you follow all our other prevention tips outlined in our blog article on BER.
If you decide to wait and see and your tomatoes, peppers, etc. develop BER, don't worry. Just be sure to treat it right away.
Does your Tomato & Veggie Boost help if my plants already have BER?
If you identify Blossom End Rot early enough, the more likely a treatment will help. To treat BER, we recommend the following steps:
Carefully remove and discard any affected fruit or veggie.
Around dusk, carefully tip your EarthBox gardening system towards the overflow drain to let any water out.
Mix Mix ¼ cup of Mrs. Wages Pickling Lime with one gallon of water, and add it to the reservoir.
The next morning, resume watering as usual and start a weekly treatment of our EarthBox Tomato & Veggie Boost or similar calcium nitrate additive.
It can take several days for this treatment to work, so you may still see some affected fruit. This should decrease over a period of 1-2 weeks. Don't use this treatment more than one time, as the buildup of too much hydrated lime can cause the roots of your plants to burn.
How many tomato plants can I grow in the EarthBox® Original gardening system?
You can place 2 tomato plants in the system at one time, as shown on the Plant Placement Chart. The Plant Placement Chart is the tried-and-true method for the very best EarthBox® results. With nearly 30 years of success, our researchers and gardening experts have determined the ideal number and position for each type of crop.
Always follow the recommendations in the instruction manual and on the EarthBox® Blog for best results. The age-old adage "less is more" applies to the EarthBox® gardening system; by overcrowding the growing system, you risk crop failure due to plants competing with one another for water, fertilizer, and sunlight.
Do I need to replace the growing media (potting mix/soil) each time I replant?
Nope! We recommend reusing the same growing media over and over, up to 8-10 growing seasons. The reason for this is: 1) it's a lot easier to leave it in place, and 2) it's better for your plants NOT changing it each year. The continual addition of dolomite each growing season allows for better concentration and readily available elements to be taken by the plant, resulting in a decreased rate of BER in tomatoes and peppers. In our company garden, we tested tomatoes using a new setup and a replant setup, and the tomatoes showed less incidence of BER in the replanted system vs. the new setup.
If your garden previously suffered from any plant diseases, such as blight, be sure to get confirmation of the disease from your local extension service by having a sample tested. Plant diseases generally cannot overwinter through extended periods of freezing temperatures. If you're unsure what your winter temperatures will be, you can opt to discard the contents of the EarthBox® gardening system, sanitize the container and all parts, and start fresh the following growing season.
If you feel the need to discard the contents of the system due to plant disease, do NOT compost or reuse elsewhere in your yard. Place the contents in a double-bagged trash bin and tie the bags in a knot to seal the contents inside. To sanitize your container garden, mix 1 part of chlorine bleach with 10 parts of water and soak each affected part for 30 minutes. Rinse well and dry completely before replanting.
Do you ship outside the United States?
We ship internationally to Canada only, which requires contacting us to get a custom shipping quote.
If you wish to order and ship outside the United States or Canada, we recommend using a freight forwarding service such as DHL. All shipments from our facility must be sent to a U.S.- or Canadian-based address.

---
The EarthBox® gardening system is a low-maintenance, fail-proof design determined to fill the needs of the home gardener of any skill level. Since not all home gardeners live in the same area, there are many challenges to finding the perfect container gardening solution for everyone, but the EarthBox® system does just that. Combining science—and a ton of testing—with great design and American manufacturing, the EarthBox® container gardening system was designed by applying a variety of tried-and-true commercial growing concepts to a small footprint to produce better results than traditional in-ground gardens. The following diagram explains in detail how the EarthBox® growing system components all operate together: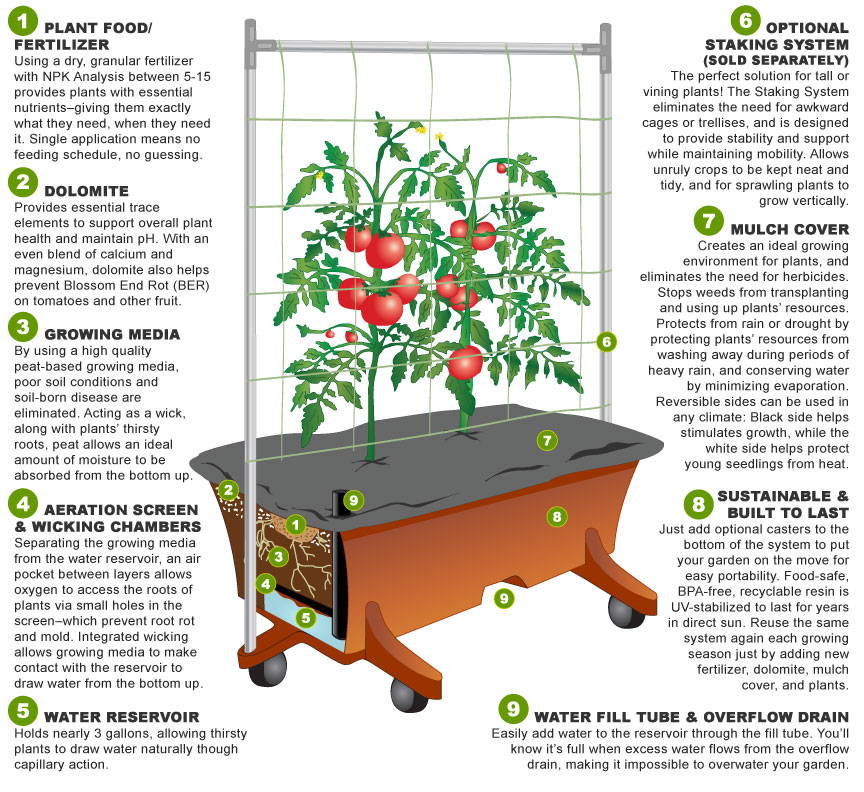 ---
Check out our blog articles to quickly become a container gardening expert!

---
| | |
| --- | --- |
| Order Total | Contiguous US* |
| | |
| | Varies; use calculator at top of page |
| | |
*All shipments outside the lower 48 United States will be charged a shipping cost.
Handling + Shipping Insurance - This $0.97 fee helps offset the rising costs we're incurring around fulfillment. It also allows us to continue offering free replacements for lost, stolen, or damaged packages. Although shipping carriers are usually the one at fault, they almost always put the burden back on businesses to cover those expenses.
PO Boxes - Please contact us to place an order that ships to a PO box to ensure proper delivery. Failure to do so may result in a longer delivery time and additional shipping charges.
When will I receive my order?
Use the calculator at the top of this page or during checkout to find your estimated delivery date. Orders are shipped directly from our Lancaster, PA headquarters. They're typically processed and shipped within 1-2 business days via FedEx Home Delivery or USPS. You can also view this map from FedEx to estimate how long a shipment will take to arrive to your location after it leaves our warehouse. We do not currently offer expedited shipping options.
For more info, please review our Shipping Policy in its entirety.