---
One of the key secrets to your EarthBox® container gardening success is the EarthBox® Mulch Cover! In addition to keeping unwanted weeds and some pests out, the Mulch Cover helps conserve water and keeps nutrients in, all while protecting your plants' growing environment against the elements. Made from durable, professional-grade agricultural film, it's one of the most important elements of the EarthBox® gardening system.
The EarthBox® Mulch Cover serves several critical functions to control and protect the system's environment:
Keeps rain out of the growing media to prevent crucial nutrients from being washed away
Prevents evaporation and conserves water
Stops weeds from transplanting in the system, which would otherwise compete for space, water, and nutrients against your crops
Helps deter some insects and other pests from burrowing or digging in the growing media
Depending on the climate and which color is face up, the mulch cover helps to attract or reflect sunlight. This assists in controlling the temperature of the growing media. Use the white side up in hot (temps regularly above 85° F), dry climates to prevent young seedlings from dying; or in contrast, help warm the soil to stimulate growth by using the black side up in cooler climates
EarthBox® Mulch Covers are sized accordingly for your growing system.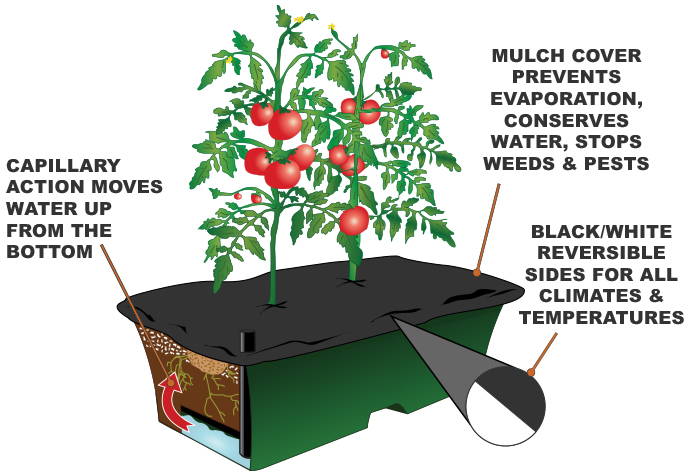 ---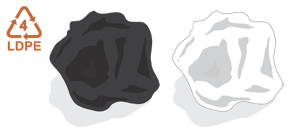 WHAT'S INCLUDED
1 Black & White Reversible Mulch Cover for your chosen EarthBox® growing system

---
Do you offer quantity discounts or bulk pricing for multiples?
Now that we offer free shipping over $149 within the Contiguous USA, we no longer offer quantity discounts or bulk pricing for this product. The reason for this is because most bulk orders are either the same price or less expensive than before due to the significant shipping savings.
We also continue to offer our customer favorite Value Bundles, which remain the best deal and always ship free (within the Contiguous USA)!
Do I really need to use the Mulch Cover?
Yes! The Mulch Cover is what protects the growing environment of the entire EarthBox® gardening system. It helps conserve water by limiting evaporation, and it prevents heavy rains from washing away all the plants' fertilizer and nutrients. The Mulch Cover also protects the growing media from weeds and pests. Place the cover on the system before planting and leave it on until your growing season is over and you're ready to remove the plants and clean up the growing system.
Always use the Mulch Cover, even in very hot climates. If your local temperatures are typically in excess of 85° F during the peak growing season, place the Mulch Cover on the system with the white side facing up. This will reflect the sun so small plants don't become stressed from the heat.
For cooler climates where early growing season temperatures may still be too cold for some plants, place the Mulch Cover on the system with the black side facing up. This will attract the sun and warm the growing media to help small plants grow.
Which side of the Mulch Cover should be facing up?
Most areas work best with the black side facing up; however, if you live in a warmer climate where the temps during peak growing season are regularly above 85° F, use the white side facing up.
Do you have Red Mulch Covers?
Red Mulch Covers are being phased out, and we no longer have Red Mulch Covers for the EarthBox® Original gardening system available. Red Mulch Covers for the EarthBox® Junior™ gardening system are available while supplies last.
How long will the Mulch Cover last?
The EarthBox® Mulch Cover is made from professional-grade agricultural film and is made to last for a single growing season, approximately 3-5 months. Each Mulch Cover is hand-sewn in the U.S.A. with a rubber-based elastic to secure the cover around the edge of the container, which will naturally degrade with exposure to UV light.
If growing indoors, the Mulch Cover will last much longer.
What is the Mulch Cover made from?
The EarthBox® Mulch Cover is made from reversible, professional-grade agricultural film, which is #4 plastic called Low-Density Polyethylene (LDPE). LDPE is food-safe.
Which EarthBox® gardening system do I have?
If you're unsure which EarthBox® gardening system you have, use the below reference to ensure you buy the correct mulch cover for your system:
EarthBox Original - Our most popular and rectangular container which measures 29" L x 13.5" W x 11" H
EarthBox Junior - Our smaller, rectangular container which measures 23" L x 9.5" W x 7.25" H
EarthBox Root & Veg - Our newest and square container which measures 17.75" L x 17.75" W x 15.75" H
Do you ship outside the United States?
We ship internationally to Canada only, which requires contacting us to get a custom shipping quote.
If you wish to order and ship outside the United States or Canada, we recommend using a freight forwarding service such as DHL. All shipments from our facility must be sent to a U.S.- or Canadian-based address.

---
The EarthBox® gardening system is a low-maintenance, fail-proof design determined to fill the needs of the home gardener of any skill level. Since not all home gardeners live in the same area, there are many challenges to finding the perfect container gardening solution for everyone, but the EarthBox® system does just that. Combining science—and a ton of testing—with great design and American manufacturing, the EarthBox® container gardening system was designed by applying a variety of tried-and-true commercial growing concepts to a small footprint to produce better results than traditional in-ground gardens. The following diagram explains in detail how the EarthBox® growing system components all operate together: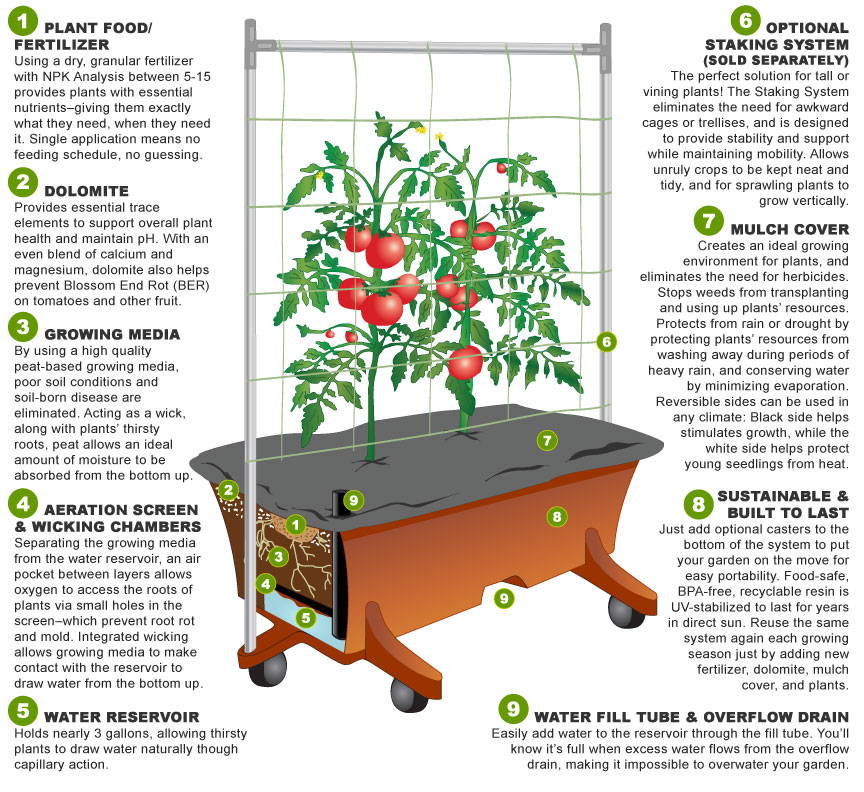 ---
Check out our blog articles to quickly become a container gardening expert!

---
| | |
| --- | --- |
| Order Total | Contiguous US* |
| | |
| | Varies; use calculator at top of page |
| | |
*All shipments outside the lower 48 United States will be charged a shipping cost.
Handling + Shipping Insurance - This $0.97 fee helps offset the rising costs we're incurring around fulfillment. It also allows us to continue offering free replacements for lost, stolen, or damaged packages. Although shipping carriers are usually the one at fault, they almost always put the burden back on businesses to cover those expenses.
PO Boxes - Please contact us to place an order that ships to a PO box to ensure proper delivery. Failure to do so may result in a longer delivery time and additional shipping charges.
When will I receive my order?
Use the calculator at the top of this page or during checkout to find your estimated delivery date. Orders are shipped directly from our Lancaster, PA headquarters. They're typically processed and shipped within 1-2 business days via FedEx Home Delivery or USPS. You can also view this map from FedEx to estimate how long a shipment will take to arrive to your location after it leaves our warehouse. We do not currently offer expedited shipping options.
For more info, please review our Shipping Policy in its entirety.