---
Growing tomatoes has never been easier! With our thoughtfully curated EarthBox® Tomato Replant Kit, you'll get everything you need for your next tomato growing season.
This tried-and-true kit includes all the important components needed to successfully grow a healthy and bountiful crop of tomatoes in the EarthBox® Original gardening system. The included fertilizer and dolomite are absorbed at just the right pace to make sure your growing plants are getting the right nutrients at the right time. The calcium nitrate, a weekly additive, delivers a nutrient punch to the plants throughout their lifecycle to protect against Blossom End Rot (BER). The mulch covers protect the system, keep weeds out, and so much more! A 5-ft. roll of soft-coated, customizable wire twist tie is included, so you can easily tie up your tomato plants as they grow. Unlike traditional twine or wire, this coated plant tie won't cut or dig into tender plant stems and can be easily removed or repositioned according to plants' needs; simply cut into smaller pieces to your desired length. There's even a replacement Trellis Net for your EarthBox® Staking System! As a special bonus, a packet of organic Beefsteak Tomato seeds are also included.
---
WHAT'S INCLUDED
1 lb. bag of Natural Dolomite
1 lb. bag of 7-7-7 (Standard) Fertilizer/Plant Food
½ lb. bag of Calcium Nitrate (weekly additive)
2 Black & White Reversible Mulch Covers for the EarthBox® Original system
5' Soft-Coated Wire Twist Tie
Trellis Net for the EarthBox® Staking System
BONUS! Organic Beefsteak Tomato Seeds
Instruction Manual with Planting Guide (view PDF)

---
Do I need to replace the growing media (potting mix/soil) each time I replant?
Nope! We recommend reusing the same growing media over and over, up to 8-10 growing seasons. The reason for this is: 1) it's a lot easier to leave it in place, and 2) it's better for your plants NOT changing it each year. The continual addition of dolomite each growing season allows for better concentration and readily available elements to be taken by the plant, resulting in a decreased rate of BER in tomatoes and peppers. In our company garden, we tested tomatoes using a new setup and a replant setup, and the tomatoes showed less incidence of BER in the replanted system vs. the new setup.
If your garden previously suffered from any plant diseases, such as blight, be sure to get confirmation of the disease from your local extension service by having a sample tested. Plant diseases generally cannot overwinter through extended periods of freezing temperatures. If you're unsure what your winter temperatures will be, you can opt to discard the contents of the EarthBox® gardening system, sanitize the container and all parts, and start fresh the following growing season.
If you feel the need to discard the contents of the system due to plant disease, do NOT compost or reuse elsewhere in your yard. Place the contents in a double-bagged trash bin and tie the bags in a knot to seal the contents inside. To sanitize your container garden, mix 1 part of chlorine bleach with 10 parts of water and soak each affected part for 30 minutes. Rinse well and dry completely before replanting.
Are seeds included with the Tomato Replant Kit?
The EarthBox® Tomato Replant Kit currently includes a packet of organic Beefsteak Tomato seeds as a bonus offering.
Do I really need to use the Mulch Cover?
Yes! The Mulch Cover is what protects the growing environment of the entire EarthBox® gardening system. It helps conserve water by limiting evaporation, and it prevents heavy rains from washing away all the plants' fertilizer and nutrients. The Mulch Cover also protects the growing media from weeds and pests. Place the cover on the system before planting and leave it on until your growing season is over and you're ready to remove the plants and clean up the growing system.
Always use the Mulch Cover, even in very hot climates. If your local temperatures are typically in excess of 85° F during the peak growing season, place the Mulch Cover on the system with the white side facing up. This will reflect the sun so small plants don't become stressed from the heat.
For cooler climates where early growing season temperatures may still be too cold for some plants, place the Mulch Cover on the system with the black side facing up. This will attract the sun and warm the growing media to help small plants grow.
How many tomato plants can I grow in the EarthBox® Original gardening system?
You can place 2 tomato plants in the system at one time, as shown on the Plant Placement Chart. The Plant Placement Chart is the tried-and-true method for the very best EarthBox® results. With nearly 30 years of success, our researchers and gardening experts have determined the ideal number and position for each type of crop.
Always follow the recommendations in the instruction manual and on the EarthBox® Blog for best results. The age-old adage "less is more" applies to the EarthBox® gardening system; by overcrowding the growing system, you risk crop failure due to plants competing with one another for water, fertilizer, and sunlight.
Do you ship outside the United States?
We ship internationally to Canada only. We recommend using a freight forwarding service, such as DHL, if you wish to order and ship outside of the U.S. or Canada. All shipments from our facility must be sent to a U.S.- or Canadian-based address.
Customers wishing to ship outside of the contiguous U.S. (AK, HI, U.S. territories, and Canada) will need to contact us during business hours to speak with a Consumer Care Representative who can provide a shipping quote to your destination.

---
The EarthBox® gardening system is a low-maintenance, fail-proof design determined to fill the needs of the home gardener of any skill level. Since not all home gardeners live in the same area, there are many challenges to finding the perfect container gardening solution for everyone, but the EarthBox® system does just that. Combining science—and a ton of testing—with great design and American manufacturing, the EarthBox® container gardening system was designed by applying a variety of tried-and-true commercial growing concepts to a small footprint to produce better results than traditional in-ground gardens. The following diagram explains in detail how the EarthBox® growing system components all operate together: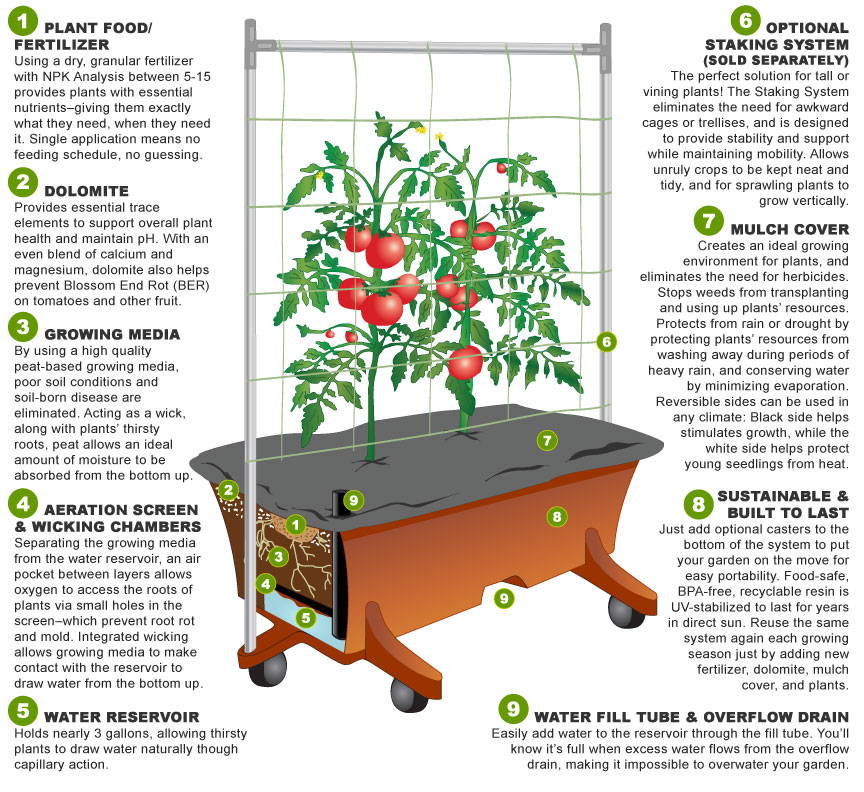 ---
Check out these articles from our blog to learn more about the EarthBox® and container gardening:

---
| | |
| --- | --- |
| Order Total | Contiguous US* |
| Value Bundles & Garden Stand* | |
| | |
| | |
| | |
| | |
| | |
| | |
| | |
| | |
| | |
*For shipping to AK, HI, US territories, Canada, APO/FPO addresses, and for orders over $1,000, please contact Consumer Care. Note that we do not ship to PO Boxes. All value bundles + the EarthBox® Garden Stand ship free within the contiguous US; however, please note that you will still be charged a shipping fee against any items in your cart that do not qualify for free shipping based on the above table.
When will I receive my order?
All items are shipped directly from our Lancaster, PA headquarters. Orders are typically processed and shipped within 1-2 business days via FedEx Home Delivery. An estimated delivery date is provided during checkout. You can also view this map from FedEx to estimate how long a shipment will take to arrive to your location after it leaves our warehouse. We do not currently offer expedited shipping options.
For more info, please review our Shipping Policy and Return Policy in their entirety.