6 Recipes to Make with Cauliflower
---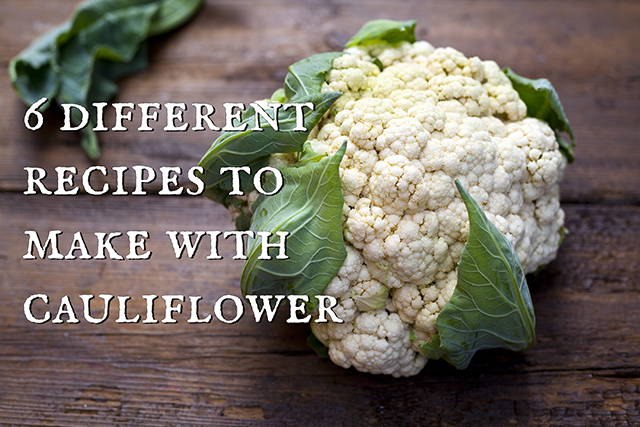 Cauliflower has made a BIG impact in the culinary world during recent years, and rightfully so! This low-carb, high-fiber option that's rich in vitamins and anti-inflammatory properties also boasts itself as a gluten-free alternative. It's no wonder everyone from folks who are trying to lose weight to those on a gluten-free diet have turned to this versatile vegetable for substituting everything from white rice to Buffalo wings!
The best way to make cauliflower enjoyable is to turn it into a healthier, guilt-free version of a recipe that's delish, but normally high in fat or carbohydrates. We have gathered up six of our favorite cauliflower recipes to get you started. Read on for all the ways to make cauliflower, below.

6 Ways to Use Cauliflower
Each recipe calls for 1 head of raw cauliflower. We recommend having a food processor available to make the most of these cauliflower recipes.

1. Cauliflower Rice
Ditch the carbs and lighten up your meals by making fluffy cauliflower rice in place of traditional rice or starchy couscous. Use leftover cauliflower rice to make a quick stir-fried meal with your favorite meat, eggs, and garden veggies.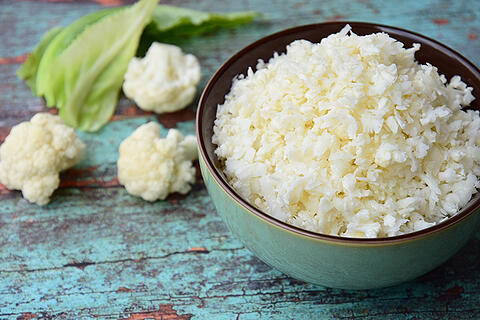 Cauliflower Rice

Break florets from one head of cauliflower, and add to a food processor.
Pulse florets in one-second intervals until it starts to resemble grains of rice or couscous.
Transfer cauliflower to a skillet with 1 tablespoon of melted butter or olive oil and sprinkle with salt.
Stir to combine, cover pan with a lid, and cook for 5-8 minutes.
Serve immediately as a side where you would normally have rice.


2. Roasted Cauliflower & Curry Soup
If you're craving a creamy soup, you'll love this recipe! Savory and warming, this spiced soup is just what you need to satisfy your senses without the heavy dairy.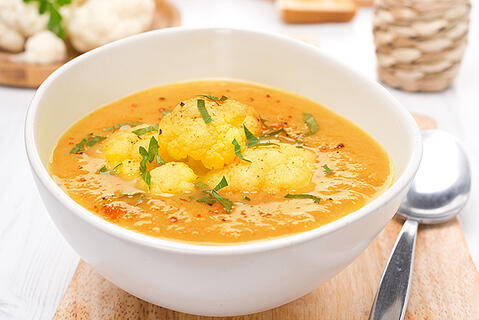 Roasted Cauliflower & Curry Soup
Preheat oven to 450° and break cauliflower head into florets, add to a mixing bowl.
Add 1 tablespoon of olive oil to bowl with salt and pepper, to taste. Toss to coat, and then transfer the cauliflower to a baking sheet.
Roast until brown and tender, approximately 25-30 minutes.
In a skillet, add 2 tablespoons of olive oil, 1 diced yellow onion, and 1 seeded and diced jalapeño. Cook on medium heat until onions are translucent and beginning to caramelize. Add 2 cloves of minced garlic and cook for 2 minutes.
Add 3 tablespoons of red curry paste and mix with cooked vegetables.
Add 4 cups of vegetable broth and one 15 oz. can of full-fat coconut milk to the skillet and stir until the coconut fat has fully melted.
Transfer roasted cauliflower and skillet contents to a blender and puree until smooth, working in batches, if needed.
If desired, garnish with scallions, spiced chickpeas, or whole cauliflower florets.
3. Cauliflower Gnocchi
Pasta lovers rejoice! This recipe is a bit more advanced and time–consuming; but if you have a craving for heavier pasta, then this is the perfect alternative with fewer calories, and it can be easily made gluten-free by swapping regular flour for almond meal.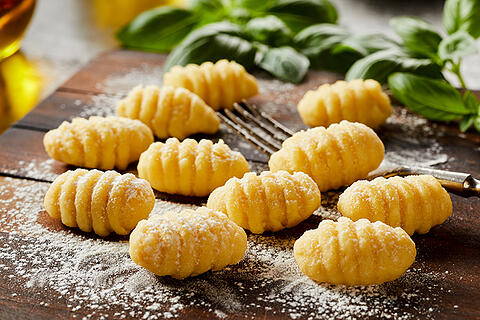 Cauliflower Gnocchi
Break cauliflower into florets and place in a steamer basket inside a pot of boiling water. Cover and steam until tender, approximately 10 minutes.
Drain cauliflower and cool. Place on a clean towel, gather corners, and squeeze the water out of the cooked cauliflower.
Place cauliflower in a food processor (use dough blade) with 1 ¾ cups of flour, 1 tsp. salt, and 1 Tbsp. olive oil. Pulse mixture until it forms into a ball of dough.
On a lightly floured surface, knead the dough for 3 minutes.
Form dough into a ball and cut into 8 even pieces (like a pizza). Roll each piece into a 6" long rope shape.
Cut each rope into 12 pieces. Roll one piece at a time along a gnocchi board or the back of a fork with your thumb.
Bring a large pot of salted water to a rolling boil.
Gently place gnocchi into water. They will float to the top when they are fully cooked, approximately 3 minutes.
Remove floating gnocchi out of water with a slotted spoon and transfer to a bowl.
Gently toss gnocchi to coat with your favorite sauce and serve.
4. Cauliflower "Meatballs"
These vegan-friendly "meatballs" will impress even the biggest critics at your table. These also pair perfectly with cauliflower gnocchi!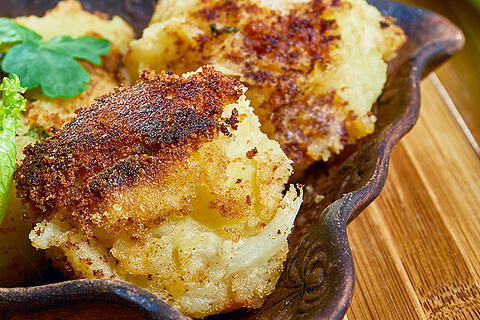 Cauliflower "Meatballs"
Break cauliflower into florets, coat generously with olive oil, and spread evenly on a roasting pan. Bake at 350° for 30-35 minutes.
In a skillet, add 2 Tbsp. olive oil and 1 diced yellow onion. Cook onion until translucent, and add 2 cloves of minced garlic. Cook another 2 minutes until garlic is soft and fragrant.
Add half the cauliflower and cooked onion to a food processor with ¾ cup dry rolled oats, and ¼ cup cooked quinoa. Pulse until mixture is well combined and transfer to a large mixing bowl. Repeat with the other half of the ingredients.
Add 1 cup Italian breadcrumbs, ¼ cup grated parmesan cheese (or vegan-friendly substitute), 1 Tbsp. dried oregano, 2 Tbsp. dried basil, 3 Tbsp. fresh minced parsley, 1 egg (omit if vegan), salt and pepper. Stir to combine.
Take 2 Tbsp. of mixture and roll it between your hands to form a ball. Be sure to press them firmly so they stay together. Place on a parchment-lined baking sheet and refrigerate for 20 minutes.
Generously oil a large skillet with olive oil and add balls, cooking over medium-high heat. Gently turn balls as they cook to ensure even browning on all sides and that they cook through.
Serve with your favorite sauce and pasta.
5. Cauliflower Buffalo Bites
Finally – a delicious vegetarian "wing" recipe! These bites are full of fiber and are a surefire crowd-pleaser.
Cauliflower Buffalo Bites
Preheat oven to 425° and break florets from cauliflower.
In a large mixing bowl, add ¾ cup flour (or almond meal), ½ cup panko breadcrumbs, 1 tsp. paprika, 1 tsp. salt, ½ tsp. pepper, and 1 tsp. garlic powder. Stir together.
Add ½ cup milk (or non-dairy milk alternative) and whisk to make a batter. Add florets to batter and toss to coat evenly.
Transfer florets to a parchment-lined baking sheet, arranging florets evenly. Bake 20 minutes, turning florets halfway through baking.
In a small bowl, whisk together ½ cup hot sauce, 2 Tbsp. butter (or olive oil), and 1 Tbsp. honey (or coconut sugar).
Brush cauliflower bites with sauce and return to oven for another 20 minutes.
Serve warm with celery and dressing (blue cheese or ranch).
6. Cheesy Cauliflower Tots
This is one substitution that might just surpass the original. These tots are so yummy and dippable; you'll forget how healthy they are!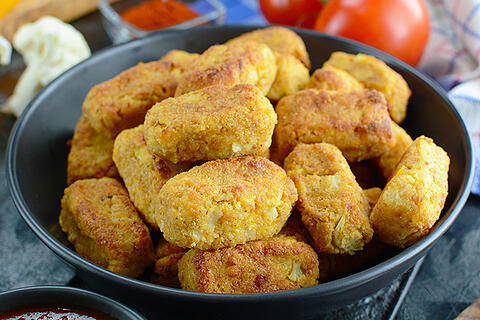 Cheesy Cauliflower Tots
Break florets from a head of cauliflower and blanch in salted boiling water for 5 minutes. Drain and cool florets on a towel.
Place cauliflower in a food processor and pulse until coarsely chopped. Transfer to a mixing bowl.
Add 1 egg, ⅔ cup plain breadcrumbs, 1 tsp. onion powder, ¼ tsp. salt, 1 cup mild cheddar cheese, and ½ cup Parmesan cheese to cauliflower and mix well.
Place mixture in refrigerator for 20 minutes.
Preheat oven to 400° and form mixture into cylindrical tot shapes. Space tots evenly on a parchment-lined baking sheet.
Bake 10 minutes, turn over tots, and return to oven for another 10 minutes.

Tell us what you like to make with cauliflower in the comment section, below!