6 Ways To Use Your Tomato Harvest
---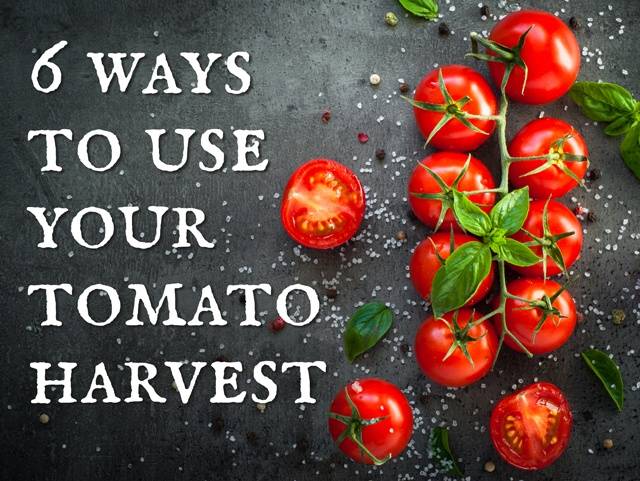 When it comes to growing tomatoes, we here at EarthBox tend to plant A LOT of tomato plants. Whether we start them from seed or purchase seedlings from a garden center, we always have a hard time choosing which varieties to grow each season. And still, to this day, it amazes us how many tomatoes a single plant can produce.

One person can only eat so many tomatoes right off of the vine—and with the number of recipes out there (thanks, Pinterest!) you can get lost on how to cook with your tomatoes!
Is there such a thing as, "too many tomatoes?" We don't think so! Try out these six simple ways to utilize and save your tomato harvest to its full potential . . .

6 Ways to Use Tomatoes
Roast Those 'Maters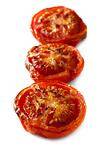 Don't fret if some of your tomato harvest doesn't live up to perfection. Sometimes they fall off the vine too soon and don't have as much flavor as their counterparts. By roasting a tomato, you can make them a little sweeter and softer, and they make for great side dishes.
How to Roast Tomatoes:
Preheat your oven to 450° F (230° C). Place a piece of aluminum foil over a baking sheet.
Place grape tomatoes or sliced tomatoes and minced garlic into a mixing bowl. Drizzle with olive oil, and toss until evenly coated. Season to taste with salt and pepper, then spread evenly onto the prepared baking sheet.
Bake the tomatoes in the oven until the skins pop and start to brown, approximately 15 - 20 minutes.
If you want to roast tomatoes but have too many to eat in one sitting, you can always jar them after you roast them. Just take off the peel and mash into a jar with some olive oil and a dash of salt – the sauce you get will be a touch sweeter than most and makes for a very savory spread.
Can, Can, Can

You can also preserve tomatoes by canning. Some families pass down canning recipes from generation to generation, but if yours is one that didn't, you don't have to feel alone – the world of canning is right at your fingertips with the age of the Internet!
Canning is actually quite easy, and you can make so many different things just with tomatoes and a few basic ingredients and seasonings. Make your own pizza sauce, pasta sauce, cooked salsa, chili sauces, and more! Just be sure you have the right equipment and carefully follow current canning guidelines.

Freeze Tomatoes Until a Later Date

If canning really isn't your thing, you can always freeze your tomatoes instead. You can freeze whole tomatoes until you're ready to use them for making sauce or soup. Store them in freezable containers or bags, and they'll keep for up to 3 or 4 months. Use throughout chilly winter months and be careful they don't get freezer burn.
Dry Tomatoes for a Savory Snack

If you're feeling adventurous and have some time (ok, a lot of time), you can even dehydrate your tomatoes! To dry them, you can use your oven or a food dehydrator. Once dried, store in an airtight container or bag. Add dried tomatoes to pastas, salads, soups, and more! They can also be packed in pure olive oil with herbs and spices to be enjoyed on their own as a snack, or served with antipasto.

How to Dry Tomatoes:
1. Preheat your oven to 200° F (94° C). Place a piece of parchment paper over a baking sheet.
2. Cut tomatoes in halves (quarters, if large), and trim stem ends. Remove pulp, seeds, and excess juice.
3. Arrange tomatoes evenly on the baking sheet, cut-side up, ensuring they are not touching or over-crowded.
4. Lightly season with salt, and put the tomatoes in the oven for a minimum of 6 hours. Larger tomatoes, or tomatoes that naturally contain more juice can take up to 12 hours to dry. Dried tomatoes should not be crispy or crunchy--they should look leathery, but still be rather pliable.
Enjoy Fried (or Pickled) Green Tomatoes

It's inevitable: as the growing season end draws near, your tomato plants are still producing—and you know you're going to lose those last tomatoes that won't vine-ripen in time before frost hits. Keep a watchful eye on the weather forecast and pick them just before the weather turns too cold. Make fried green tomatoes as a side to a weeknight dinner; or pickle them, following current canning guidelines.
Prepare Fresh Tomatoes in a Different Way

If the temptation of homegrown tomatoes lying around prevents you from roasting, canning, freezing, drying, frying, or pickling them . . . enjoy them fresh! Although delicious, sometimes slicing a tomato and sprinkling on some salt and pepper just doesn't cut it.
Get adventurous with your vine-ripened tomatoes and try out our own recipe for homemade bruschetta, below.
Homemade Bruschetta
Ingredients:
6 Vine-ripened tomatoes, pulp removed and diced (Mix different varieties for extra flavor and color)
1/2 small red or sweet onion, diced
1-2 cloves garlic, minced
Fresh basil leaves, chopped
Balsamic or Red Wine Vinegar
Olive Oil
Salt & Pepper
1 loaf of Italian or French bread, sliced and toasted
Parmesan cheese (optional)
Mix diced tomatoes, diced onion, minced garlic, and chopped basil leaves in a glass bowl. Lightly drizzle vinegar over top, followed by olive oil--do not saturate the mixture. Stir to incorporate, and season to taste with salt and pepper. Spoon over toasts and serve. If desired, grate fresh Parmesan cheese over top.
Optional: Add fresh mozzarella cheese on toasts and broil before spooning on the mixture.
These other recipes are great for a quick lunch or dinner, and even a hearty snack:
Caprese Salad | Tomato Avocado Melt | The BLEAT Sandwich | Marinated Tomatoes

Tell Us In the Comments: What is your favorite recipe to make when you have an abundance of tomatoes?
Share your tomato recipes below and trade with our other readers!