---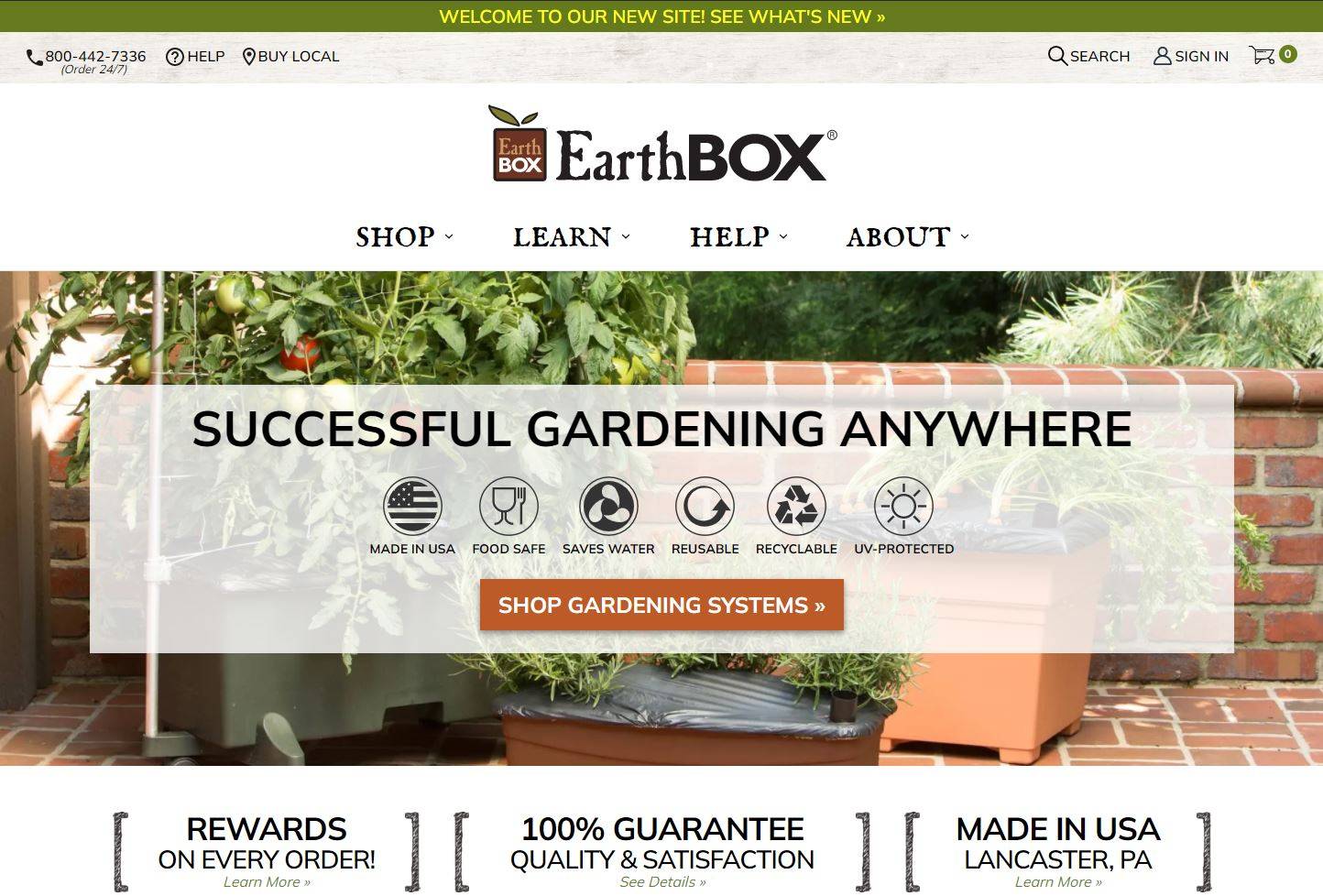 At EarthBox® we're continually looking for ways to make gardening easier. We started by developing a container gardening system that works anywhere and for everyone. No matter where you live, or your level of experience, you can use our systems and succeed.
With that same concept in mind, we've once again improved the experience on our website, EarthBox.com.

Our new website is perfect for existing EarthBox® fans and EarthBox® newbies alike. The updated site provides a faster shopping experience designed to help everyone more easily find the right container gardening systems and accessories for their needs. In addition, we've made it easier than ever to find all our extensive Learning Center, Help Center, and About Us content.
Key improvements & features of the new site include:
Improved Design & Navigation
If you've visited us before, you'll notice the overall design is similar to our old site. We focused on improving that classic design by making it easier to use and fine-tuning your experience as you browse through our site.
Build Your Own EarthBox!
We're excited to roll out this new feature that gives you the option to select the main components of each of our 3 gardening systems that you want or don't want included with your purchase.
More Detailed Product Pages
We've revamped the layout of our product pages to make them easier to use while also providing you more information. From product specific frequently asked questions and what you can grow to related blog posts and additional learning content, we hope you find these changes helpful.
Updated Review System + Product Q&A
We've implemented a new review system that now allows sorting and searching reviews, marking reviews as helpful (or not), and uploading photos and/or videos. There is now also an option to "Ask a Question" which will start to populate on our products as people ask questions that may not have been answered elsewhere. We will do our best to respond to each and every one!
Revamped Rewards Program
We've revamped our existing Rewards Program to make it easier to earn points. Check out our Rewards Program page for more information.
Enhanced Site Search
Our site search feature (top right of any page) has been fine-tuned to more accurately show what you're trying to find. You can search all our learning center and blog content plus of course our products as well. Unlike our old site's search, this one will also get smarter over time.
Integrated Blog
Our blog, Inside the Box, is the perfect place to explore EarthBox® gardening techniques, recipes, and more. We've now integrated the blog directly into EarthBox.com for easier navigation and finding of articles via our new enhanced site search feature.
Faster Page Loads
We know our old website didn't always load quickly and provide the best experience. You'll find the new EarthBox.com loads much faster on all devices.
Coming Soon. . .
We have additional features in the works that we hope to launch soon. The one we're most excited about is a tool that will ask you simple questions to help recommend which product(s) are best for your situation and based upon what you want to grow. Look for this in the coming months!

We really hope you like our improved site and new features.
Please take the time to explore and comment below with any feedback.