RECIPE: Bourbon-Roasted Carrots
---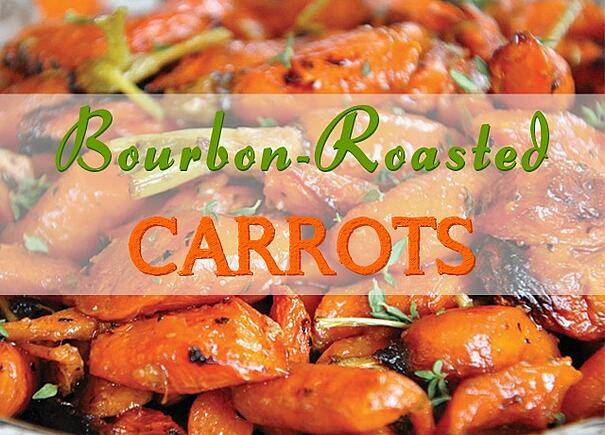 Mom always said to eat your veggies. . .maybe you would have if she made them this good!
Now that we offer the EarthBox® Root & Veg gardening system (a perfect gift for Mom!), we're here with a delicious roasted carrot recipe that's perfect for Mother's Day.
This is Why You Should "Carrot" All
This month we bring you the most amazing roasted, glazed carrots in the history of mankind – or at least we think so! We think you'll agree after you have your first taste of one of these delectable little bites. For starters, there's bourbon. Second of all, there's bourbon. Have we mentioned that there's bourbon?? Throw in some real maple syrup, savory herbs, a twist of freshly ground black pepper – and we think these tasty morsels will find their way onto your upcoming Mother's Day brunch menu. Yes, they REALLY are that good!.

RECIPE: Bourbon-Roasted Carrots
For all of our recipes, we will try to list suitable substitutions for vegetarian/vegan, and/or gluten-free diets if applicable.
Serves approximately 6 people
What You'll Need:
1 lb. fresh carrots
½ cup 100% real maple syrup, plus additional for garnish
½ cup bourbon
3 Tbsp. brown sugar
Pinch of ground cardamom or cinnamon
¼ cup olive oil
2 Tbsp. butter (vegans/vegetarians substitute with margarine), melted
Salt & Pepper
Fresh sage leaves, cut into thin strips / Fresh thyme leaves
Let's Get Cooking:
Preheat oven to 425°. Wash and peel carrots, and remove tops (either completely, or just trimming down). You'll want to the cut carrots so that you wind up with long, thin pieces. Place in a glass baking dish.
In a small saucepan, combine the bourbon, maple syrup, brown sugar, and cardamom (or cinnamon). Heat until sugar is dissolved, ingredients are well-incorporated, and the mixture is slightly thickened. Be sure not to boil or overcook the mixture.
Pour mixture over carrots and add in olive oil and butter. Sprinkle with salt and freshly ground black pepper. Mix thoroughly, spreading the carrots out evenly in the baking dish.
Place in oven for 25 minutes, uncovered. Remove from oven and stir/turn gently, checking for doneness. Place back in oven until carrots are slightly browned/ caramelized and liquid has mostly cooked off (approximately 20-30 minutes).
When done roasting, remove from pan, lightly drizzle some maple syrup and sprinkle sage or thyme leaves over top.
Suggestion: for those who enjoy a combination of sweet and savory, cook some bacon until crispy and crumble over top of roasted carrots.
Enjoy!

Tell us: what's your favorite carrot recipe?