An EarthBox® and Global Volunteers® Partnership Helps Combat Malnutrition Around the World
---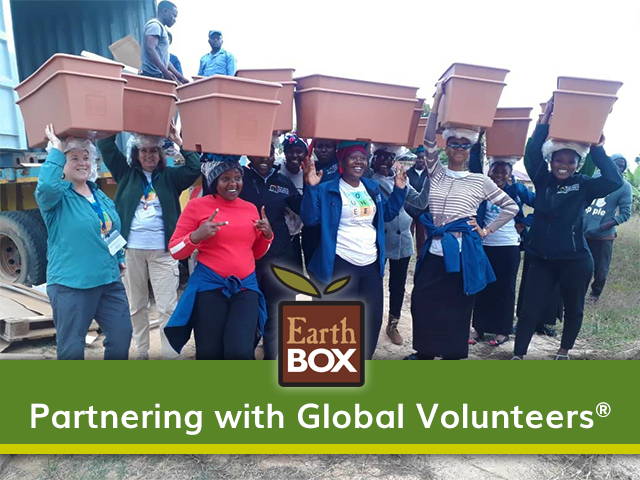 EarthBox and Global Volunteers are on a mission to combat malnutrition in Africa and around the world by providing villages with the necessary tools to help them grow their own food.

What is Global Volunteers?
Global Volunteers is a Minnesota-based non-profit organization that was founded in 1984; the idea conceived by newlyweds Michele Gran and Bud Philbrook during their first year of marriage in 1979.

In an effort to give back, they spent half of their honeymoon volunteering in Guatemala with an international development organization—which led them to start their own volunteer program. Global Volunteers addresses hunger, health, poverty, and educational issues in impoverished communities around the world.
Since their inception, Global Volunteers® has run projects in over 200 communities in 35 different countries; and is recognized by the U.N. and UNICEF.
The Importance of Nutrition and Education
Did you know? In sub-Saharan Africa, half of the deaths to children under five are caused by malnutrition.
One of the scariest factors of malnutrition in rural villages around the world is its long-term impact. Children under three years old are the most vulnerable. From conception to the child's third birthday, proper nutrition is a requirement for both the mother and child to prevent stunting and wasting. Wasting is the more commonly depicted image of malnutrition. It's a picture of an extremely hungry, skinny child whose ribs are sticking out. Stunting is different and is often more harmful. Most kids who survive wasting – are still susceptible to stunting. Stunting happens when you have a low height for your weight. It's irreversible, meaning the person will not properly develop physically or cognitively throughout the rest of their life.
EarthBox and Global Volunteers
EarthBox is proud to be integrated as part of Global Volunteers' Reaching Children's Potential (RCP) program, where women are educated during pregnancy about how to prevent stunting in their children. In addition to having access to health clinics, being taught about proper hand sanitation, and the importance of breastfeeding immediately after giving birth; women and families are given EarthBox container gardening systems and taught how to grow their own food in order to provide proper nutrition to their families. As part of the program, volunteers help set up the gardens and teach families how to use them.
EarthBox Lands in Ipalamwa, Tanzania
In Tanzania alone, the WHO estimates that up to 40% of children are affected by stunting from lack of nutrition and access to healthcare.
Global Volunteers thought of a great way to provide nutritious food to their Tanzanian communities. The idea was to teach and have people grow food easily, within a small footprint, all while conserving water and energy. In addition, they needed to be able to use a system that would provide enough fruit and vegetables to the families. The fruits and vegetables are converted into meals to the families who are in desperate need of micro nutrients. Because of their experience using EarthBoxes in St. Lucia and Peru, Global Volunteers turned to their tried and true partner, EarthBox, to help with this wonderful endeavor.
The request is a big one - a whopping 1,000 boxes! After detailed planning and execution, we were delighted to find out the shipment had arrived in Ipalamwa on Friday, October 4, 2019!
Currently, five villages that experience food insecurity have plans to gain access to home gardens with EarthBox through the RCP program. Combined with clinics and education, families now have a better chance of providing proper micro nutrients to their children, so they can develop properly and thrive.
EarthBox Around the World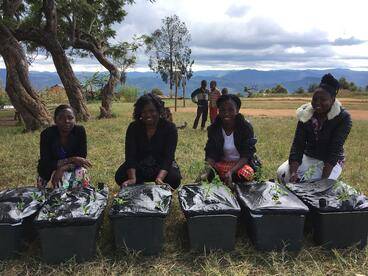 In addition to Tanzania, Global Volunteers is planning to expand their EarthBox home gardening project to combat hunger and malnutrition in other areas of the world:
Anse La Raye, St. Lucia
This was actually the very first EarthBox integration with Global Volunteers, and it will continue to grow in the future.
Lima, Peru
Since Global Volunteers currently has an educational and health program in place, they will be looking to grow with the addition of their RCP program, which includes incorporating EarthBox container gardens like the Tanzania project.
We will provide updates and information as our partnership with Global Volunteers continues to grow.
To learn more about the partnership between EarthBox and Global Volunteers and how you can apply to help make an impact on families around the world, visit https://globalvolunteers.org/earthbox-partnership-nourishes-mothers-and-children-in-tanzania or click the button below:

Interested in partnering with EarthBox? Drop us a comment and will be happy to hear about your mission.