RECIPE: Salted Caramel-Covered Strawberries
---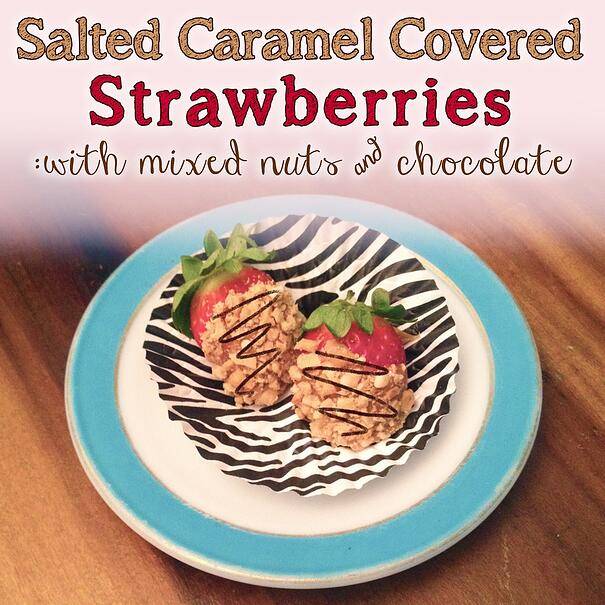 Move over chocolate! These berries are getting a new treatment.
Yes, strawberries can be grown in the EarthBox® gardening system! Not only are they delicious, but they're also packed full of vitamins and antioxidants.
Lovin' from the Oven
While chocolate covered strawberries are scrumptious (especially for Valentine's Day), we've got a new spin to put on nature's tasty little treats: salted caramel! Read on for the full ooey-gooey recipe (Warning: things might get a tad messy!).

RECIPE: Salted Caramel Covered Strawberries
For all of our recipes, we will try to list suitable substitutions for vegetarian/ vegan, and/or gluten-free diets if applicable.
Serves 8 - 10 (2 strawberries per serving)
What You'll Need:
16 - 20 Fresh Strawberries
40 Caramels (for an organic, vegan, and gluten-free option, use 30 Cocomels®)
3 Tbsp. Heavy Cream (vegetarians/ vegans substitute with 2 Tbsp. of almond milk)
1/4 tsp. Kosher Salt
1/2 tsp. Coarse Sea Salt
1 1/4 cup mixed nuts, coarsely chopped
1/2 cup chocolate chips (any chocolate brand of your choice is suitable)
Wax paper
Double Boiler (or saucepan and oven-safe glass bowl that fits the top of the saucepan)
Metal Spoon
Pastry bag with piping tip, or heavy-duty resealable sandwich bag
Let's Get Cooking:
Wash strawberries and thoroughly pat dry. Let strawberries come to room temperature. Mix chopped nuts and sea salt together on a plate or piece of wax paper.

Unwrap caramels and place in top portion of double-boiler or glass bowl*. Add water to the bottom of the boiler, and turn on medium-high heat. As caramels begin melting, add heavy cream and kosher salt, stirring until smooth.

*Alternately, you can use a microwave to melt the caramel, although this is messier and harder to keep the caramel consistently melted. Place caramels, kosher salt, and cream in a glass bowl and heat on MEDIUM (50% power) for 4 minutes, stirring halfway through time. If additional time is required, heat at 30 second intervals until smooth.

Dip each strawberry halfway to three quarters in the caramel. Immediately roll the strawberry in the nut mixture, and place on a sheet of wax paper. Repeat until all strawberries are coated.

Melt chocolate chips and place into a pastry bag fitted with a piping tip. You can also use a resealable sandwich bag with the corner snipped for piping.

Lightly drizzle each strawberry with melted chocolate. Let stand for 15 minutes and serve immediately. These may also be covered and refrigerated up to 8 hours (please note: caramel may become runny if brought back to room temperature after being chilled).
Enjoy!

Tell us: what do you put on your strawberries?