RECIPE: Watermelon & Mint Salad
---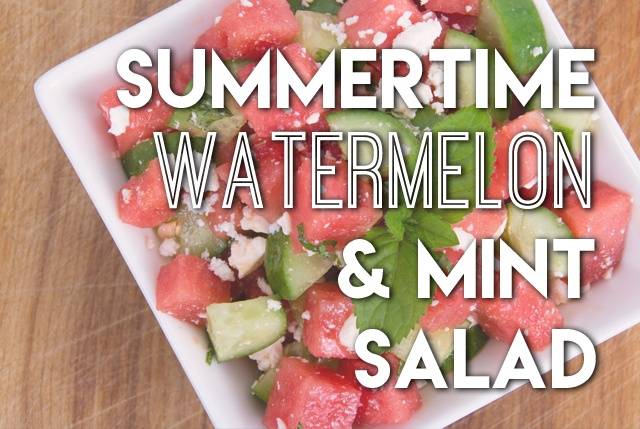 This twist on Caprese salad is a refreshing summertime treat that's sure to please!
Most people would agree that watermelon is delicious in the summertime. You can easily grow watermelon in the EarthBox® gardening system and even turn it into a vertical garden by letting it grow on the EarthBox® Staking System!
For a refreshing treat this summer, try this yummy twist on the classic Caprese salad.

RECIPE: Summertime Watermelon & Mint Salad
For all of our recipes, we will try to list suitable substitutions for vegetarian/vegan, and/or gluten-free diets if applicable.
What You'll Need:
1 whole watermelon, rind removed and cubed into medium-small pieces
2 cucumbers, diced
1 package feta cheese or mozzarella pearls (vegans can substitute with extra firm tofu crumbles)
Fresh julienned mint leaves, to taste
Extra Virgin Olive Oil (EVOO)
Balsamic glaze (also known as balsamic reduction, it is sweeter than straight balsamic vinegar)
Fine sea salt
Let's Get Cooking:
In a large glass bowl, add watermelon and cucumber; sprinkle lightly with fine sea salt.
Lightly and sparingly drizzle EVOO over top, followed by balsamic glaze.
Lightly stir together to fully coat watermelon and cucumber.
Crumble feta cheese over top of salad. If using mozzarella pearls, break apart pearls before adding to the salad.
Roughly chop mint leaves and add over top. Garnish with a whole mint leaf and serve.
Serving suggestion: Cut watermelon in half and use a melon baller to scoop flesh instead of cubing. Save one half of the hollowed rind and cut off just enough of the rounded part to create a flat bottom to use as a serving bowl.
Enjoy!