Get to Know a Grower
:


Bob Whisenant

,

EarthBox Garden Center
---
One of our goals at EarthBox® is to make gardening easy, successful, and fun for people of all ages. We want to inspire home gardeners, and empower them to grow their own food and try something new or different.
In this series "Get to Know a Grower (GTKAG)," we are sharing the experiences of some of our most passionate and unique EarthBox® growers. This month, Bob Whisenant from the family-owned-and operated EarthBox Garden Center in Florida sheds some light on the early days of his father's "revolutionary garden" invention, shares some of his gardening advice, and shows us the family's store/farm/educational set-up.

Bob Whisenant, Part-Owner of the EarthBox Garden Center; and EarthBox Farmer
Location: Ellenton, FL – USDA Zone 9B
Tell us about yourself: I grew up on an 1,800-acre farm in Manatee County, Florida. We mainly grew tomatoes and sold them commercially. We also had 300 acres of juice oranges and sold them along the East Coast. My dad Blake, the inventor of the EarthBox, was passionate about figuring out different ways to farm. He was fascinated with a farming technique called "Seed Gradient Irrigation." This technique eventually led him to create the EarthBox. In the mid-90s, we used 3 acres of the property and farmed from 9,000 EarthBox systems. Little did I know that this was the beginning. I had went to college and got my Citrus Business Degree (which was in a Horticulture category), but then I realized I would be focusing on growing a lot of different types of crops, and I'm ok with that.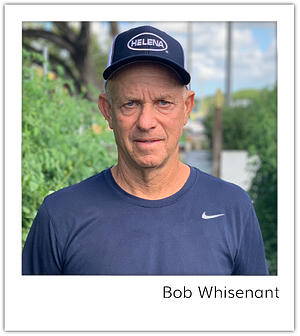 Share with us the history of how you became an EarthBox farmer:
[Chuckling] I didn't have much of a choice, although, I always enjoyed helping Dad. I saw the potential in the EarthBox and thought it was important to bring the box to the home gardener. We stopped farming the EarthBox systems commercially and opened the EarthBox Garden Center. We still farmed in the EarthBoxes at the garden center, but at a smaller scale. We wanted to sell the produce and be able to show people how well it worked. It's been rewarding because nice people come to the garden center and it feels great to provide a successful garden to others.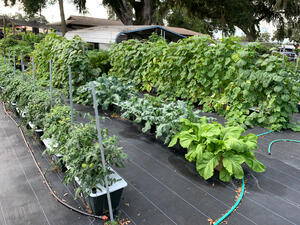 What makes your EarthBox Garden unique?
I have over 20 years of experience growing in an EarthBox gardening system. I believe in it, I know how it works, and I can handle the weather patterns. I know what to do with garden pests and wild hogs. I love the simple concept. It's so easy to set up and I don't think there is another gardening technique out there this easy. I have 300-400 Original-sized EarthBoxes at the store. I grow almost every type of produce you can think of, but mainly tomatoes. We have 150 EarthBoxes growing strawberries right now. I have 100 Juniors and 20 Root & Veg boxes growing lettuces, herbs, and even perennials. Root & Veg boxes are perfect for roses.
---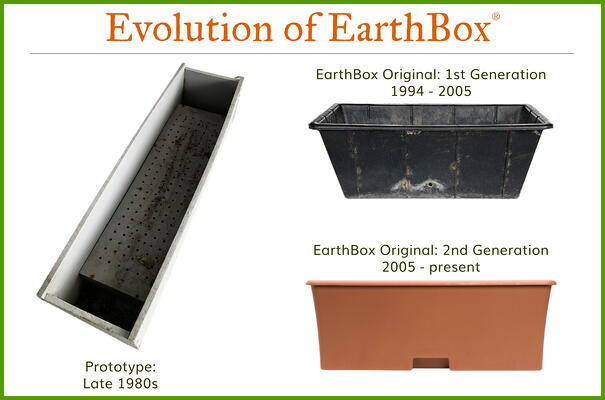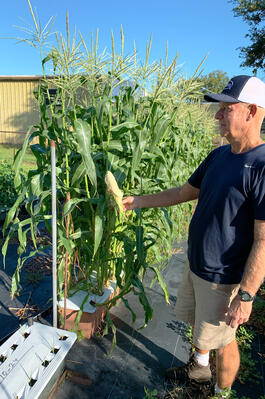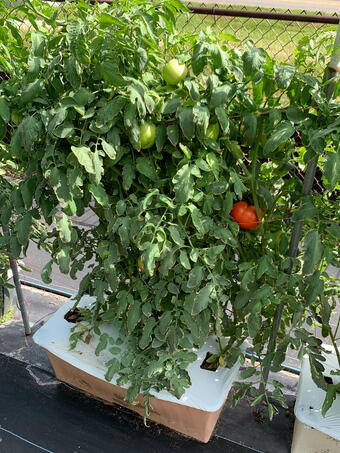 Quick Q&A
What are your top 5 favorite crops to grow in the EarthBox®, and what makes them your favorite?
1. Tomatoes – They are the most economical crop to grow. One box can grow 25-40 pounds per season. Tomatoes cost an average of $4.50 per pound at the grocery store. If you'd buy 25 pounds of tomatoes at the store, you'd spend $112.50. An EarthBox costs about $50 to start and the next year only costs about $15 to replace seedlings and fertilizer; and add some fresh growing media. PLUS, homegrown tomatoes are better-tasting and more nutritious than store-bought tomatoes. My favorite varieties are Tasty Lee, Mountain Magic Cherry, and Orange Grape
2. Herbs – I just love having fresh herbs available all year round.
3. Peppers – I like both sweet and hot varieties. Peppers can also be expensive at the store, so I love to grow them myself.
4. Strawberries – There is nothing quite like a fresh, homegrown strawberry.
5. Lettuces – Homegrown lettuce just tastes so much better and packed full of nutrients.
What is your favorite must-have accessory in your EarthBox® garden?
MULCH COVERS! To grow a true EarthBox, you must use a cover. I can't stress this enough!
(Learn why the Mulch Cover is essential for growing in the EarthBox®)
What advice do you have for new EarthBox® gardeners ?
1. Don't try to go cheap on the potting mix. Put the right type of growing media in there. Something high-end that drains well. At the EarthBox Garden Center we use a mix that contains 80% peat, 10% perlite, and 10% vermiculite.
2. Grow something specific to the season.

3. Make sure your plants are getting the proper air and sunlight. In Florida, it's especially important to keep the plants dry and the roots wet.

4. Watch for insects. If you see a harmful insect, take care of it immediately.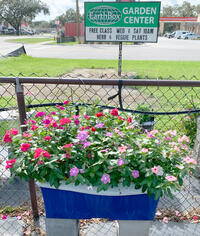 What fruit or vegetable do you love—both growing and eating—that others should try in their garden and on their table?

Tomatoes here again! I just love a fresh tomato. Slice it up, add a bit of salt and pepper. Delish! I'm also a big fan of B.A.T. (bacon, avocado, tomato) sandwiches.
I love growing kale and my wife makes a wonderful kale and sausage soup (find the yummy recipe below!).

Recipe: Zuppa Toscana (Kale and Sausage Soup)
Bob's favorite fresh-picked recipe!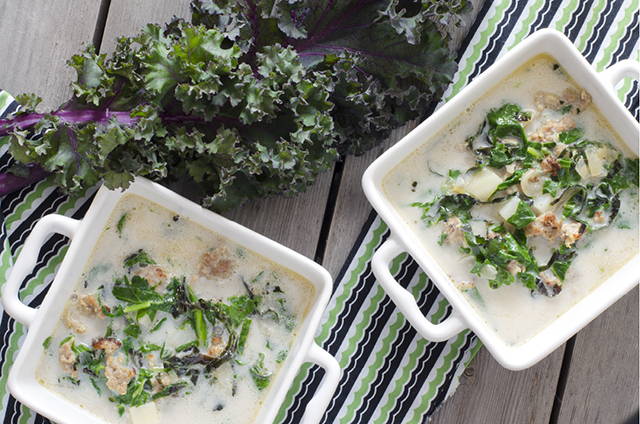 You will need:
1 lb. ground spicy Italian sausage (mild can be substituted)
8 slices bacon, diced
1 medium yellow onion, peeled and diced
2 cloves garlic minced
2 Tbsp. flour or cornstarch
32 oz. chicken stock
4 large russet potatoes, peeled and diced into half-inch pieces
1 cup heavy cream
1/2 bunch kale (a couple of handfuls) de-stemmed and torn into bite sized pieces
Salt and pepper, to taste
Optional: Pinch of red pepper flakes
Let's get cooking:
Heat a large Dutch oven or heavy bottomed soup pot over MED-HIGH heat. Add a small drizzle of oil, then brown sausage, crumbling as it cooks. Drain well, then remove to a plate.
Fry bacon is residual sausage grease until crisp, then remove to plate with the sausage. Drain all but 1 - 1 1/2 Tbsp of bacon grease.
Add onion to pot and cook 5 minutes, adding garlic the last minute.
Sprinkle flour over onion and garlic in pot, then stir to combine. Pour in chicken stock, stirring as you pour. Add in potatoes and bring to a boil.
Gently boil about 15 minutes, or until potatoes are tender. Add in cooked sausage, bacon, heavy cream and kale. Stir and cook 5-10 minutes until kale is wilted.
Taste and season with salt, pepper and red pepper flakes if desired.
Transfer to a bowl, top it with bacon, and ENJOY!
Yield: 6 servings

Connect with the EarthBox Garden Center!

(PLEASE NOTE: The EarthBox Garden Center is owned and operated by the Whisenant family, not Novelty Manufacturing Co. Please tag us and/or direct any questions or comments on social media to EarthBox by Novelty Manufacturing Co. separately, using the links in the footer of our website and blog.)

Do you have a unique EarthBox® garden, or inspiring story to share?
Share your experiences in the comment section below!