Get to Know a Grower
:


Susan Roghair

,

EarthBox® Enthusiast
Article posted on February 28, 2019 by EarthBox Sales & Marketing
---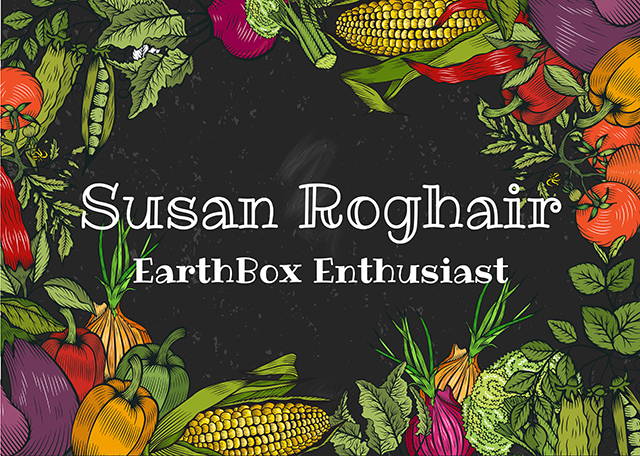 One of our goals at EarthBox® is to make gardening easy, successful, and fun for people of all ages. We want to inspire home gardeners, and empower them to grow their own food and try something new or different.
In this series "Get to Know a Grower (GTKAG)," we are sharing the experiences of some of our most passionate and unique EarthBox® growers. This month, Susan Roghair — an EarthBox® customer-turned-friend — shares her story about transforming her backyard into a neighborhood classroom to share her gardening passion with others.
Susan, a spirited and bubbly homemaker, is also an incredible photographer, travel blogger, artist, gardener, and gourmet vegan cook!

Susan Roghair, EarthBox® Enthusiast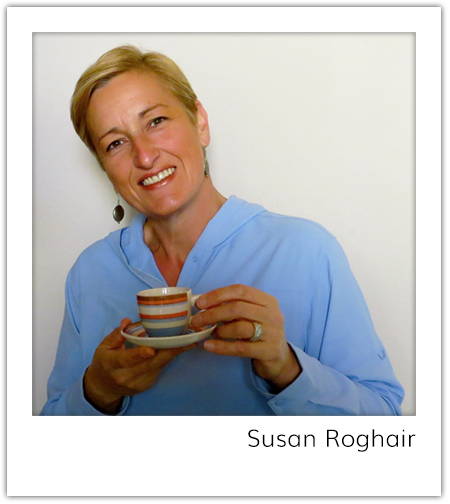 Location: From the North of England, originally, but now lives in Tampa, FL – USDA Zone 9B
Tell us about yourself: I love to cook! Everything I make is organic, not processed or frozen. I cook only with fresh produce and make everything completely from scratch. I've been a vegan for thirty years and my husband, Dan, for over fifty years!
One of the things I love about having an EarthBox® garden is the accessibility to fresh produce right outside my kitchen door. There is nothing more fun than harvesting a bunch of veggies and them being on the dinner table minutes later. You can't beat that for freshness or convenience!
How did you become an EarthBox® gardener?
Over the years I would watch my neighbor grow a variety of vegetables in her oversized lot. Not having anywhere near the space she has or the land to plant in, I had little hope for a vegetable garden of my own.
I always thought you had to plant in raised beds, and my garden is already dense in trees, shrubs and flowers and there's certainly no room to consider a raised bed. Being a neatnik in the garden I was never fond of the raised bed look. They appeared problematic to me, and prone to bugs and other infestations.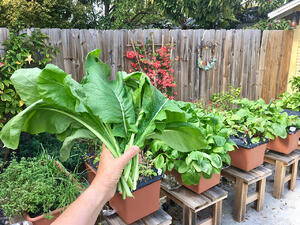 It was when I discovered my first EarthBox® at Shell's Feedlot that I immediately realized this is what I was looking for all along! Neat, clean, tidy, perfect size, nice color options, and space-efficient!
Having an oversized parking pad in the back of our home that gets full sun exposure made for the ideal location for our EarthBox® garden. It was a space we had no use for. We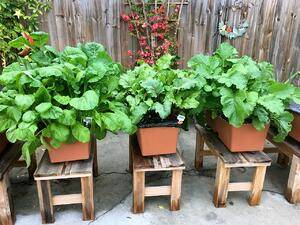 couldn't plant anything there due to the concrete cement pad.
I've been EarthBox® gardening for eight years. Due to the success of the first one, I slowly added more over the years and now have 16 of them. They give me an abundance of crops each growing season, with plenty left over to share with friends.
I even hired a retiree to build cypress benches to stand them on so I can garden at waist level. I stagger the wooden stands for easy access to watering and harvesting.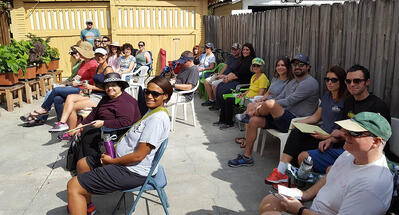 What makes your EarthBox® garden unique?
I'm so proud of the EarthBox® garden that I actually hosted an EarthBox® class for free for my neighborhood in my backyard. It was such a big hit that I did a second one in the neighborhood park for the children giving it a totally different twist and focus in order to encourage children to eat their vegetables.
The classes are so popular that people have asked for more. So, I've gone on to setting up EarthBox® gardening workshops at Shell's Feed & Garden Supply parking lot here in Tampa. I can't begin to tell you how deeply satisfying it is to get other people started. Living in Florida makes growing possible year round and the sunshine makes everything lush. It just seems like a natural fit for living in this area. As a matter of fact, growing fresh greens like kale maxes out on nutritional payload. Consequently, growing your own is like absorbing solar energy.
It is so satisfying to survey my crops and cultivate them. It's priority in cooking to get the freshest cleanest ingredients possible. The fact is the crops I grow are the most nutrition-dense one can get, and I can testify as a veteran vegan from garden to fork is also far tastier. If I don't use greens for salads, I tend to steam them and top them with a little tahini and sesame seed.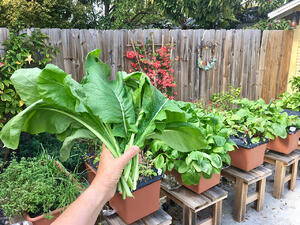 EarthBox® gardening just makes sense on every level. I think it is a means to connect with Earth and virtue while bringing out the nurturer in one. I just love my offspring and am proud of their rapid growth. And, reciprocally, they nourish me and my loved ones. What could be healthier or more wholesome?
As for any expense involved, EarthBox® gardening pays for itself. Plus the life lessons teach us all, regardless of our years, that much more about the beauty of life. For children, I'd say an EarthBox® should be in every classroom. Kids need desperately to connect with what—150 years ago—used to be part of almost everybody's life back in the day when almost all of us grew our own food. Best of all, it teaches independence.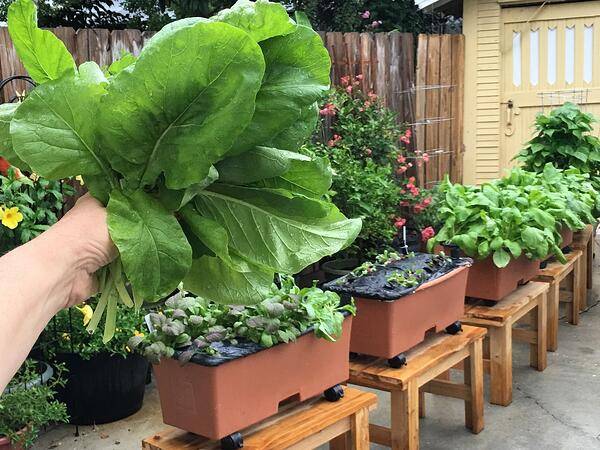 Quick Q&A
How many EarthBox® gardening systems do you own?
EarthBox® Original: 12 terracotta, 1 green
EarthBox® Junior: 3 terracotta
What are your Top 3 favorite crops to grow in the EarthBox®?
1. Bok Choy – not only are they tops in nutrition but they grow super-large in the EarthBox®. Yum!
2. Grenada Peppers – it's fun to see them turn from vibrant yellow to brilliant red. I love to slice these in half and stuff them with various grains and veggies and bake them. Voila! The entreé.
3. Kohlrabi – I compete with friends on who can grow the biggest! I always win because I'm the only EarthBox® grower in the competition :)
What is your must-have accessory in your EarthBox® garden?
I just like to invest in the box itself!

What advice do you have for someone who is new to EarthBox® gardening?
The EarthBox® gardening system is fail-proof, provided you follow the planting instructions and grow what is in season in your USDA zone. Know what planting zone you live in and follow a good growing chart and you can't go wrong! Many charts are free and accessible by doing an online search. Just be sure it's for your region!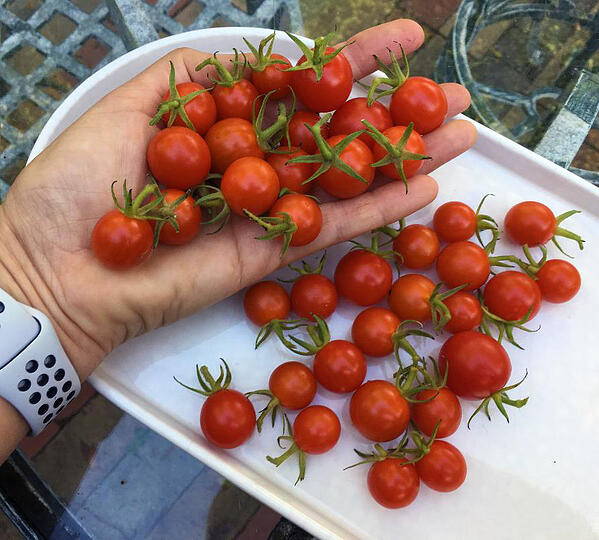 What fruit or vegetable do you love, both growing and eating, that others should try?

Cherry tomatoes! Because it's fun to walk by, grab one and pop it in your mouth when on the go!

Recipe: Stuffed Grenada Sweet Peppers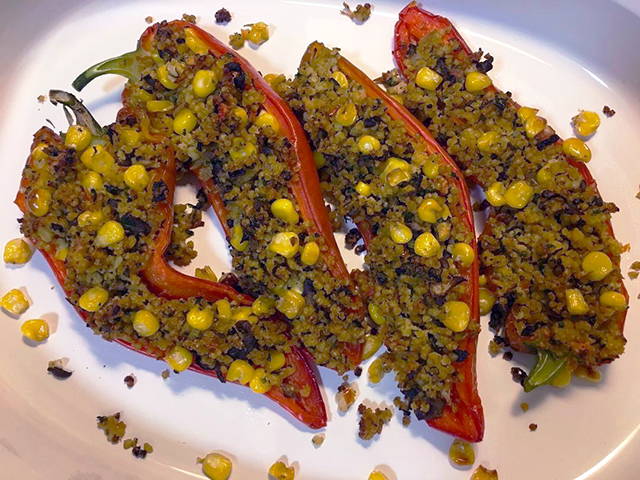 You will need:
2 large Grenada peppers
1/2 teaspoon sunflower oil
1/4 cup finely chopped shallots
1 cup chopped mushrooms
1/3 cup chopped fresh parsley
1/2 teaspoon chili powder
1 cup hot cooked millet
1 tomato finely diced
1/4 teaspoon freshly ground black pepper
1/4 cup yellow corn
1 garlic clove, minced
2 tablespoons nutritional yeast
pinch of cayenne pepper
splash of hot sauce
Let's get cooking:
Slice the peppers in half. Discard the seeds and membranes.
Cook the peppers in boiling water for five minutes. Drain, then set aside.
Heat oil in a large skillet over medium-high heat. Add shallots and sauté three minutes or until tender.
Add mushrooms and sauté for four minutes or until tender.
Add parsley and chili powder and sauté three minutes.
Add cooked millet, tomato, black pepper, garlic, corn and cayenne pepper and sauté three minutes.
Transfer to a mixing bowl and gently stir in the nutritional yeast and hot sauce.
Spoon millet mixture evenly into each pepper.
Place stuffed peppers in a baking dish and bake at 400 F for 30 minutes.
Yield: 4 servings


Do you have a unique EarthBox® garden, or inspiring story to share?
Share your experiences in the comment section below!