RECIPE: Grilled Jalapeño Party Poppers
---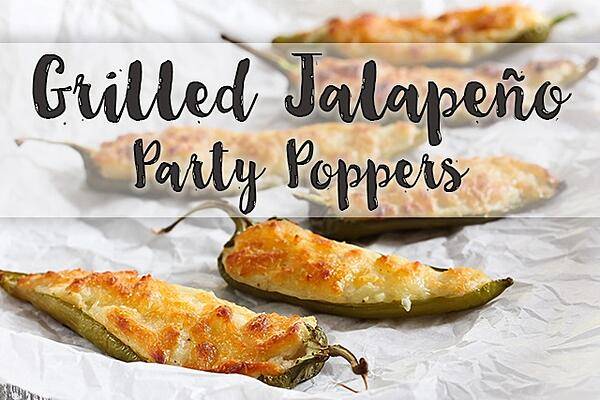 Spice up your next party or barbeque with these rich, smoky appetizers!

Grilled Jalapeño Party Poppers
Smoke and spice come together in this delicious recipe, which is sure to be a hit at your summer barbeques. For easy entertaining, assemble and refrigerate these the day before, then just pop 'em on the grill right before guests arrive.
You'll Need:
20 Jalapeño peppers
8 oz. cream cheese, softened
1 tsp. Liquid Smoke® hickory flavoring*
½ tsp. garlic powder
Pinch of sea salt, finely ground
¼ tsp. smoked paprika*
¼ cup green onions, minced
½ cup sharp cheddar cheese, shredded
¼ cup diced tomato, seeded and cored
Olive oil
1-2 limes
Fresh cilantro, chopped for garnish
*If you choose to use a smoker instead of a grill, you can eliminate the Liquid Smoke® flavoring and smoked paprika from this recipe.
Let's Get Cooking:
Halve peppers lengthwise and remove the seeds and membrane. Brush or spray bottom of each pepper (skin side) with olive oil. Always wear gloves while handling any kind of hot peppers. If you don't have gloves, wash hands thoroughly with soap and water afterwards.
Preheat your grill on medium-high.
In a bowl, combine cream cheese, Liquid Smoke® flavoring, garlic powder, and salt.
Add cheddar cheese, green onions, diced tomato, and paprika to cream cheese mixture, stirring until combined.
Spoon the filling in each pepper half, distributing evenly.
Lightly brush or spray the top of each pepper (cheese side) with olive oil.
Carefully transfer stuffed peppers, facing up, to the grill.
Grill for 8-10 minutes with the cover down, until bottom skins are charred and tops are browned.
Transfer to a serving platter. Squeeze fresh lime juice over top of peppers and garnish with a sprinkling of chopped cilantro.
OPTIONAL: If desired, wrap each stuffed jalapeño half with a strip of bacon before placing on the grill, and secure with pre-soaked bamboo skewers or toothpicks.

Share your favorite party food recipe with us in the comments!