RECIPE: Hearty Eggplant Ragù
---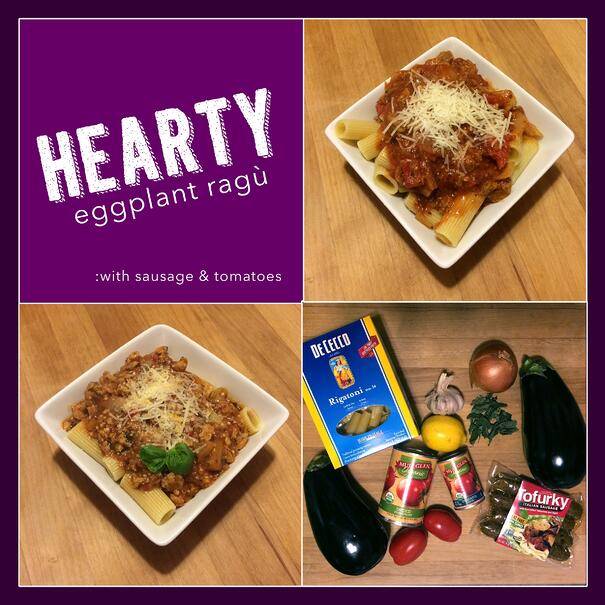 We're not talking about the jar of sauce you grew up with.
Eggplant is one of the easiest things you can grow in an EarthBox® gardening system, often very prolific. There are so many different varieties and colors, not just the traditional deep purple found at the grocery store—you can find (or grow) them in white, magenta, green—even red and yellow! They're also a great source of dietary fiber, and are packed full of vitamins and minerals.
Ragù vs. Ragoût
You might be thinking, what's the difference? Though pronounced the same, they are slightly different. A traditional French ragoût is a classic stew that may be served as the main course. Italian ragù (derived from the original French term) is a meat-based sauce used to dress pasta (don't worry, vegetarians and vegans–we have a substitution for you, too!).
Eggplant Overload
Since eggplants produce rapidly, it's easy to become inundated with them. . .but you don't have to consume them all at once. You can freeze eggplant (sliced or cubed) for a later time, or make this recipe and freeze it in batches.
If you've never had eggplant, or are unsure how to prepare it, this recipe is simple to follow, and is a yummy way to incorporate this delicious veggie into your diet.
On the other hand, if you find yourself making the same old Eggplant Parmesan over and over again, this recipe offers a new twist that is sure to please.

RECIPE: Hearty Eggplant Ragù
For all of our recipes, we will try to list suitable substitutions for vegetarian/ vegan, and/or gluten-free diets if applicable.
Serves 8-10 (can easily cut this recipe in half for a family of 4)
What You'll Need:
2 large eggplants, skins removed and cut into small cubes
Freshly grated Parmesan cheese (optional)
Juice from ½ a lemon
Water
1 lb. each Italian sweet sausage and hot sausage, casings removed (chicken, turkey, pork, or any vegetarian/vegan sausage substitute of your choice are all fine to use)
1 large yellow onion, diced
2-3 cloves of garlic, minced
15 oz. pure tomato sauce (if you don't make your own, Muir Glen® is a good canned brand to use.)
2 cups diced tomatoes (or a 15 oz. can)
8 basil leaves, dried and crumbled (or roughly 1 Tbsp.)
Salt and pepper, to taste
2 boxes of Rigatoni pasta
Let's Get Cooking:
Peel and cube 2 large eggplants, place in a saucepan with a ½ cup of water, dash of salt, and juice from half a lemon. Steam for 30-45 minutes or until eggplant is fully cooked down to a purée.

Remove sausage* from casings and brown meat in a braising pot (or stock pot), breaking the meat into crumbles as it cooks.

*If you opt for a non-meat sausage replacement, add some olive oil to the pot and brown the meat replacement, crumbling it until it's browned well. You may also need to add some red pepper flakes for heat.

Add in onion and garlic; continue cooking until onion is translucent. Add in tomato sauce, diced tomatoes, and eggplant; stir well until everything has been fully incorporated.

Add in basil, pepper, and salt—simmer for 30 minutes. At this point, you could also transfer the ragù to a crockpot and set it to low for a few hours.

While the ragù is simmering, bring a pot of salted water to a boil and cook the rigatoni. Reserve about a ½ cup of the pasta water before draining.

Add the ragù to drained pasta with ½ cup of pasta water. Gently stir to coat the pasta. Sprinkle some fresh Parmesan cheese over top, and garnish with fresh basil.
Enjoy!

What's your favorite way to make eggplant?