RECIPE: Herb-Roasted Beets with Blue Cheese
---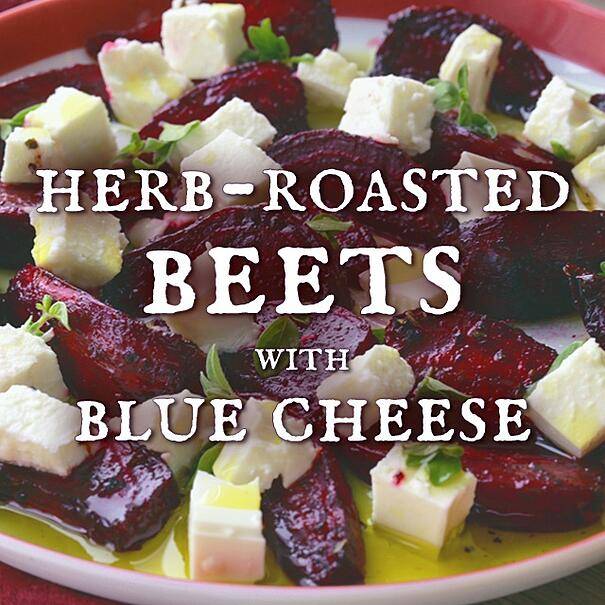 Enjoy the sweet, earthy flavors of roasted beets combined with the warmth of rosemary, and the tangy bite of blue cheese.
Who doesn't love warm roasted beets in the Fall, or sweet pickled beets in the Summer? You can easily grow beets in the EarthBox® Root & Veg gardening system and enjoy them any time of the year!
These herb-roasted beets make for an unexpected delicious side to dinner, or can be mixed with greens and served as a salad or appetizer.

RECIPE: Herb-Roasted Beets with Blue Cheese
Serves 6-8
What You'll Need:
12 small / 8 medium beets
4 Tbsp. pure olive oil
2 tsp. fresh thyme leaves, minced
3 stems fresh rosemary
1½ tsp. sea salt, plus another ½ tsp.
½ tsp. freshly ground black pepper
2 oz. blue cheese or feta cheese, cubed or crumbled
Let's Get Cooking:
Preheat the oven to 375° degrees. Trim leaves off roots and wash beets under cold water. Cut the tops off and carefully peel each beet.

Cut small beets in half, and medium ones in quarters.

Place the cut beets in a glass baking dish and toss with the olive oil, thyme, and sea salt. Place stems of rosemary in-between cut beets and cover with foil.

Roast for 45 minutes, turning once halfway through. Increase temperature to 400° and remove foil.

Continue roasting for another 10-15 minutes. Remove from oven and discard rosemary stems.

If desired, drizzle additional olive oil over top. Sprinkle with cheese, season with salt and pepper; serve warm.
Optional serving suggestion: Mix with field greens, add chopped walnuts and drizzle a balsamic glaze to serve as a salad.
Enjoy!