RECIPE: Pumpkin Spice Pillow Cookies
---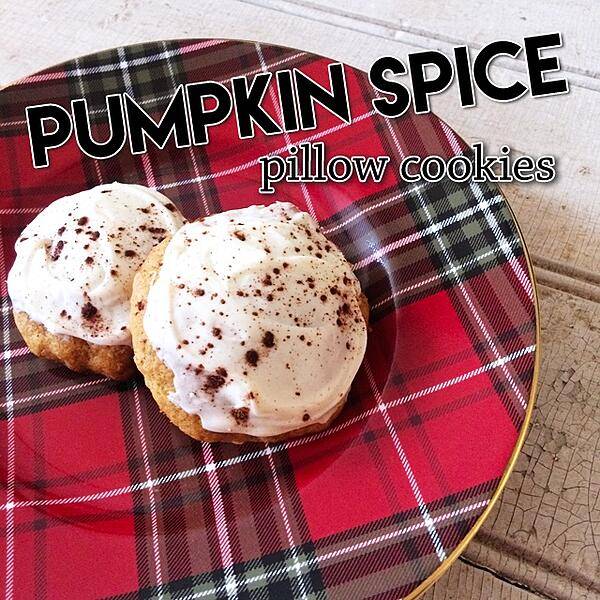 Pumpkin spice is everywhere these days, and with good reason--the warming spices combined with decadent sugar is the perfect complement to cooler weather. The problem is that many commercially produced pumpkin spice-flavored foods are artificially colored and flavored, something that many home gardeners prefer to avoid. But you can easily grow pumpkins (our Pumpkin Growing Guide is helpful with this) in the EarthBox® gardening system and preserve their sweet flesh for use in many recipes!
These fluffy Pumpkin Spice Pillow cookies are easy to make, delicious, and are so soft–just like little pillows! Just in time for the holidays–whip these up when you're expecting a crowd, participating in a cookie swap, or need something to bring to a party.

RECIPE: Pumpkin Spice Pillow Cookies
Makes approximately 5 dozen
What You'll Need:
Cookies:
4 sticks Butter, softened (2 cups)
2 cups Granulated sugar
2 tsp. Baking soda
2 tsp. Baking powder
1 tsp. Salt
1 tsp. Cinnamon
1 tsp. Nutmeg
1 tsp. Pumpkin pie spice
2 eggs
1 Tbsp. Vanilla extract
2 cups Pumpkin purée (or 15 oz. can - NOT pumpkin pie filling)
4 ¼ cups Flour
Frosting:
16 oz. Cream cheese, at room temperature
1 stick Butter, softened (½ cup)
3 cups Confectioner's sugar
1 Tbsp. Vanilla
Milk
Topping:
Pumpkin Pie Spice
Pecan Halves (optional)
Let's Get Cooking:
Preheat oven to 350°F.
In a small bowl combine: baking soda, baking powder, salt, cinnamon, pumpkin pie spice, and nutmeg. Set dry ingredients aside.
Using either a stand mixer or a large bowl with a hand mixer; beat butter and sugar together on medium speed until well incorporated. Sift in dry ingredients on low speed.
Beat in eggs, vanilla, and pumpkin purée.
Remove bowl from mixer. By hand, stir in flour and mix well.
With a teaspoon, drop dough in small heaps on ungreased cookie sheets, spacing 2 inches apart. Do not overcrowd the cookie sheet, as cookies may spread when baking.
Bake 11 minutes, and transfer cookies to a wire cooling rack.
Using either a stand mixer or a medium bowl with a hand mixer; combine cream cheese, butter, and vanilla. Beat on medium-high speed, gradually adding in sugar. Add milk 1 tablespoon at a time until frosting is desired consistency. For a glaze add more milk, for a spreadable frosting add less milk.
Spread frosting over top of each cookie, or drizzle with glaze. Sprinkle with pumpkin pie spice. If desired, place a pecan half in the middle of each cookie.
Let frosting or glaze set overnight before storing in a tin. Place wax paper or parchment paper between layers when storing.
Enjoy!