Cultivating Cabbage: The Ins and Outs of Growing this Versatile and Nutritious Vegetable
Article posted on March 9, 2016 by EarthBox Sales & Marketing
---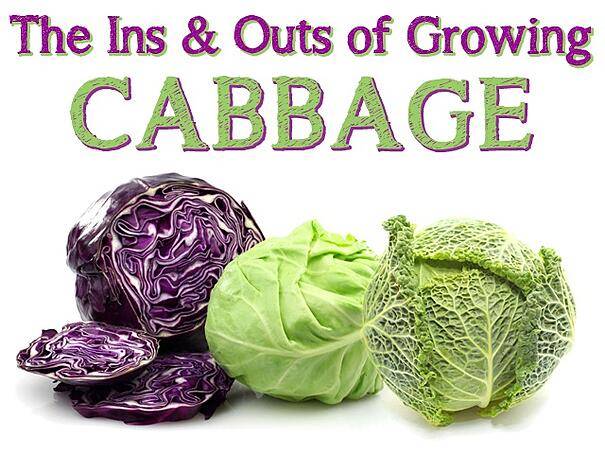 When you were a kid, you may have cringed when you heard cabbage was going to be on the dinner table. Many children aren't fans of cabbage because of its strong taste, but as we age our tastes change. If you're a big fan of cabbage and want to cultivate some right in your back yard, it's easy to grow in the EarthBox® gardening system! Here are some tips and tricks to make your growing a success!

Cabbage Tips & Tricks
TEMPERATURE
Most people don't realize that cabbage is a cool-season crop. Too hot temperatures (above 77°F /25°C) will stunt the growth on cabbage. Many cabbage varieties are fairly cold-tolerant and hardy, and will do well until temperatures dip to freezing. The best temperature range for cabbage is around 60° - 68°F (15°-20°C). Depending on your USDA zone, plant accordingly.
SOIL pH
Cabbage is a fairly hardy plant and can thrive in a variety of types of soils. The one thing cabbage does not like is a pH level greater than 7. If you continually plant cabbage in the same EarthBox® system, it's important to replenish your growing media with fertilizer high in nitrogen and potassium. Since peat is naturally acidic, cabbage does quite well growing in the EarthBox® system. If you're unsure about the pH, you could always use a pH testing kit or meter that will let you know if you need to adjust the levels. If you're growing cabbage in the ground, it is wise to rotate the locations where you plant the cabbage since it is considered a hard plant on the soil.
WATER
Cabbage LOVES water. If you are normally guilty of under-watering your plants, be sure to give your cabbage plants a bit more attention by watering daily. Consistently watering throughout its growing season is recommended in order to avoid low yields. If you notice the heads of the cabbage plants are starting to crack, chances are it is not getting enough water.
PLANTING
Many varieties come with different instructions on planting, so be sure to follow the directions on spacing and depth for your type of plant.
VARIETIES
Cabbage isn't only a tasty vegetable to serve up as a side dish, but it also is quite pretty to look at while it is growing.
Red Cabbage provides a bright and beautiful array on a plate and is actually higher in vitamin A and C than other varieties.
Bok Choy (or Pak Choi, as it's also commonly called) is leafy and has large, tender leaves with very crisp stems. The flavor is very close to baby spinach, and it is delicious in soups and stir-fries because of its varying textures.
Savoy Cabbage grows in very tight and compact heads, and this variety is perfect for eating raw. The leaves are tender and go perfectly in stews and stir-fries.
With all varieties, it's best to allow them to reach maturity but not grow too large — otherwise, the leaves may become tough in texture. There are so many cabbage varieties; you could have an entire cabbage garden if you are a cabbage connoisseur. We've included a special recipe below using green cabbage for this tasty side dish.

RECIPE: Haluski (Cabbage & Noodles)
This wonderful Eastern European comfort food is easy and quick to prepare as a side dish. The ingredients are simple and preparation can be completed in about 30 minutes.
For all of our recipes, we will try to list suitable substitutions for vegetarian/ vegan, and/or gluten-free diets if applicable.
Serves 4
What You'll Need:
2 yellow onions, peeled and diced
1 green cabbage (1.5 lbs.), cored and diced
1 bag of egg noodles, "dumpling" or "broad" sized (Food For Life® fettucine noodles can be broken up and used for a vegan substitute) OR homemade Spätzle works great for this dish, too (if you have time).
6 Tbsp. Butter, salted (Earth Balance® Vegan Buttery Sticks for vegan substitute)
Salt & Pepper
Let's Get Cooking:
In a large skillet over medium-high heat, sauté onions in 2 tablespoons of butter until translucent. Add 2 more tablespoons butter, cabbage, and salt to taste and stir to incorporate; cover and reduce to medium heat for ten minutes.
While cabbage mixture is cooking, boil noodles according to package direction and drain well.
Once cabbage is tender, remove cover and add well-drained noodles.
Add remaining 2 tablespoons of butter and turn heat back to high. Slightly brown the mixture, stirring frequently.
Season with additional salt if needed, and add a generous amount of freshly ground black pepper as desired.
Enjoy!

Tell us: what are you planning to create with your homegrown cabbage?