RECIPE: Hearty Halupki (Stuffed Cabbage)
---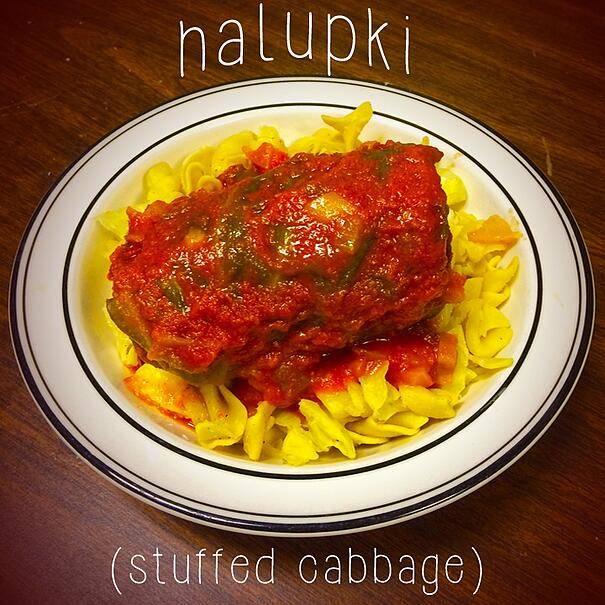 Now that we've covered growing cabbage in the EarthBox® gardening system, we're here with a hearty recipe to savor the last little bit of March.
This is How We (Cabbage) Roll
We know, we know–some of you are thinking "but this has MEAT in it!"
After careful consideration, we decided on this recipe because it's so diverse and naturally gluten-free, and the vast majority of our customers are omnivores. And a lot of our customers know that EarthBox was previously based in Scranton, PA–where there is a large Polish population; so maybe we were channeling the food from our roots in NEPA (Northeastern PA) with this Halupki dish, too. If you are vegetarian or vegan, we're sorry to offend, but we welcome you to post your own stuffed cabbage recipes in the comments below, and give us something new to try.
Many countries have their own versions of stuffed cabbage (or peppers) with their own unique ingredients; and we like to think of someone's little grandma making this in her kitchen, passing down her recipe to the next generation. This is our twist on traditional Halupki, adding some kale for extra texture and veggies in this meat-driven dish.
While it takes more time than one might have during the week, enjoy it on the weekend or on a rainy/chilly day, and consider serving it alongside some Haluski.

RECIPE: Hearty Halupki (Stuffed Cabbage)
For all of our recipes, we will try to list suitable substitutions for vegetarian/ vegan, and/or gluten-free diets if applicable.
Serves 10-12 (1 roll per serving)
What You'll Need:
1 large head of green cabbage
1 lb. ground beef
1 lb. ground turkey (or pork)
1lb. ground chicken (or sweet chicken sausage, casings removed)
3/4 cup chopped kale (or a 1/2 cup of chopped fresh parsley)
1 cup cooked white rice
2 eggs
2 small yellow onions (or 1 large onion)
3 cloves of garlic, minced
Sweet paprika
Salt & Pepper
30 oz. plain tomato sauce/ purée
3/4 cup white vinegar
4 Tbsp. granulated sugar
Let's Get Cooking:
Wash cabbage and place in a pot with water. Cover and steam until leaves begin to separate and cabbage is tender. While cabbage steams, mix meats, eggs, rice, onion, garlic, kale, 2 dashes of paprika, dash of salt, and 3 dashes of pepper together in a bowl. Do not over-mix the meat, just incorporate ingredients well.

When cabbage is done, reserve cabbage water and transfer head to a colander. Run under cool water as you carefully peel the leaves off.

When you have 12 large leaves, pat each dry with a paper towel and cut the vein out from each leaf in a "V" shape. Reserve remaining cabbage for the sauce.

Take a cabbage leaf and place it on a flat surface with the cut vein side to the right. Scoop a generous portion of meat mixture into the bottom of the leaf, fold the sides in, and roll from the bottom up. Place roll in a greased deep baking dish. Repeat until all 12 rolls are done and packed into the baking dish. Preheat oven to 350°.

While oven preheats, combine tomato purée, sugar, and vinegar in a saucepan. Add 2 cups of the cabbage water, a couple dashes of paprika, salt and pepper to taste. Dice leftover cabbage and add to sauce. Bring sauce to a light boil, stirring frequently. Pour sauce over top of cabbage rolls, cover tightly with aluminum foil and bake for approximately 1 hour or until meat is no longer pink inside.
Enjoy!

Tell us: what do you put in your cabbage rolls?