RECIPE: Homemade Pumpkin Spice Latte
---
Spice up the fall season with this healthy homemade PSL!
Fall is upon us—the leaves are changing color, the air is crisp…and pumpkin spice-flavored food is everywhere: breakfast cereals, beer, cookies, and—the queen of pumpkin spice, herself—the PSL, of course.
If you enjoy all the warm flavors of the season, we have a simple and quick recipe for you to make your own easy pumpkin spice latte at home…and we think it's even better than Starbucks (and easy on your wallet, too)!
Read on for our easy DIY Pumpkin Spice Latte, which you can also enjoy with these delicious homemade pumpkin spice cookies.
The best part about this recipe (other than it's flavor) is that it's versatile—it can be made to suit nearly any diet: dairy-free, gluten-free, caffeine-free, vegan, and organic. There are many options to control exactly what type of ingredients you use, so it can be customized for nearly everyone.

Pumpkin Spice Latte
For Each Serving, You'll Need:
2 Tbsp. 100% pure pumpkin purée
You get extra bragging rights if you grew the pumpkin in your garden (learn how with our Growing Guides)! You don't want to use pumpkin pie filling, which is already processed with sweetener and spices.
You can add more or less depending on your sweetness preferences; and you can use you own choice of sugar—refined white sugar, brown sugar, coconut sugar, or even maple syrup.
¼ tsp. Pumpkin pie spice blend
If you don't have this specific blend, you can simply make your own in one-teaspoon increments by combining 1/2 tsp. cinnamon, 1/4 tsp. ginger, 1/8 tsp. cloves, and 1/8 tsp. nutmeg.
We recommend 100% pure vanilla extract instead of imitation vanilla.
Again, you can choose what kind of milk to use in this recipe—dairy milk (whole, 2%, skim), coconut milk, almond milk, rice milk, or soy milk.
¼ C. freshly brewed coffee or 1 shot espresso
If caffeine gives you the jitters, don't worry—you can substitute it for strongly brewed decaffeinated coffee. On the other hand, if you are a regular coffee drinker, you could always make it a double with an extra shot of espresso. If you don't have an espresso machine, prepare instant espresso powder according to the package directions, or just brew your regular coffee extra strong.
Tip: Make this pumpkin spice latte kid-friendly by swapping the coffee or espresso for hot chocolate.
Whipped topping (optional)
For extra decadence, add your choice of whipped topping to your latte such as frothed milk, whipped cream, or whipped coconut cream; and sprinkle with pumpkin pie spice blend or cinnamon sugar.
Let's Get Cooking:

In a saucepan over medium-high heat, stir pumpkin purée with pumpkin pie spice blend until warm and fragrant, about 45 seconds.
Add your choice of sugar and stir until dissolved and the mixture just starts to bubble.
Add vanilla, then carefully whisk in the milk and stir constantly for 3 minutes.
Remove from heat and stir in your coffee or espresso.
Over a mug, carefully pass your latte through a fine mesh strainer to catch any pumpkin fibers, coffee grounds, or spices.
Top with frothed milk or whipped cream, and a dash of pumpkin pie spice blend or cinnamon sugar.
Enjoy!
OPTIONAL: If you enjoy drinking a pumpkin spice latte every morning during the fall, make a large batch at once and refrigerate in a sealed pitcher or container. Reheat one serving each morning on the stove or in the microwave, or enjoy it cold served over ice, or blended into a smoothie with a ripe banana and vanilla yogurt.
---
You can grow pumpkins, gourds, and winter squash with the EarthBox® gardening system!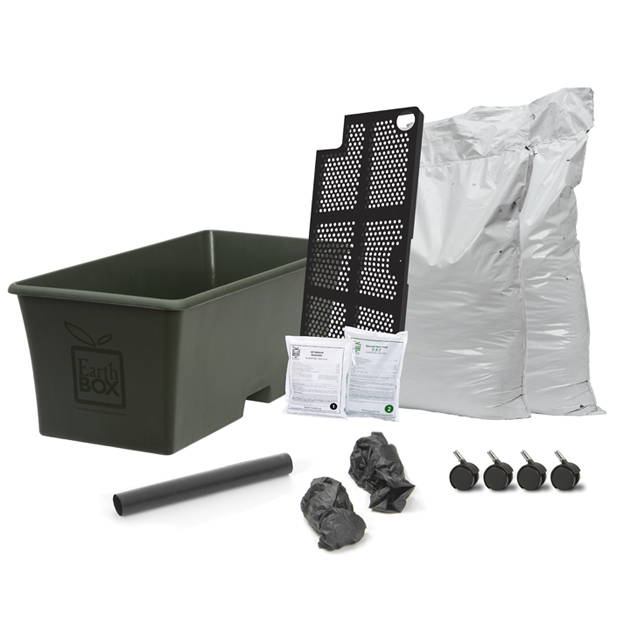 Tell us in the comments: What's your favorite pumpkin spice treat to indulge in during the fall?