Do you…
…want to avoid rising prices at grocery stores?
…want to eat healthy, homegrown veggies?
…want to reduce the pressure on the public food supply?

Do all of this and more with the EarthBox® Victory Garden Bundle!

Inspired by the post-war Victory Garden movement, and recently revitalized by the COVID-19 pandemic, we've created our very own Victory Garden Bundle for you, your family, and your neighbors with EarthBox® container gardens. We know times are strange and tough right now – so we hope this bundle brings you a bit of joy, as gardening often does.

Each Victory Garden Bundle comes with three of our patented EarthBox® container gardening systems and a 5' Staking System. They are scientifically designed to promote steady plant growth, conserve water, and eliminate any extra maintenance. Follow the included instructions and plant placement chart during the initial planting to ensure gardening success! Throughout the growing season, each component works harmoniously to make growing your own fresh veggies super easy.

We've combined our three unique systems to give you the best chance to grow a variety of different fruits, veggies, greens, and herbs. This way, you can always have some fresh food on hand. Easily attach your Staking System to the original-size EarthBox® system to support vining crops like tomatoes and cucumbers. The possibilities and combinations of plant types are endless with this bundle!

Start your very own EarthBox® Victory Garden today!
WHAT'S INCLUDED
1 EarthBox® Original Container Gardening System
1 EarthBox® Junior Container Gardening System
1 EarthBox® Root & Veg Container Gardening System
1 EarthBox® 5' Staking System

6 Casters (for EarthBox Original & corresponding Staking System)

Fertilizer & Dolomite (choose Standard 7-7-7 OR Natural 8-3-5)

Instruction Manuals with Planting Guide
WHAT YOU CAN GROW
You can grow just about anything in an EarthBox® gardening system! These are the fruit, vegetables, and herbs we recommend for this growing system. Click on any of the images to be taken to our Growing Guide page where you'll learn how to succeed at growing each crop. Follow the recommendations for plant placement, light, and watering to get the most out of your container gardening experience!
The Standard 7-7-7 Fertilizer is great for all plants, but is highly recommended for growing all fruiting and root crops such as:
Tomatoes, Peppers, Eggplant, Cucumbers, Zucchini/Sumer Squash, Butternut/Winter Squash, Melons, Beans, Pumpkins/Gourds, Strawberries, Okra, Corn, Onions, Radishes, Beets, Garlic.
The Natural 8-3-5 Fertilizer is recommended for only growing leafy and cruciferous vegetables and herbs such as:
Lettuce, Salad Greens, Herbs, Spinach, Kale, Chard, Brussels Sprouts, Artichokes, Celery, Cabbage, Broccoli, Cauliflower, Leeks, Kohlrabi.

How do Value Bundles save me money?
EarthBox Value Bundles provide a discount off the non-bundled total product price and shipping charges. The displayed regular price and savings are based off the full price of all the individual products and the average shipping charge we incur to ship the entire bundle.
All bundles include standard shipping anywhere in the contiguous U.S. at no additional charge*. Due to increasing rates and overweight/oversize penalties we incur from our shipper, we are unable to provide much of a discount on Value Bundles that contain the EarthBox Potting Mix.
*All Value Bundles shipping outside the contiguous U.S. will incur additional shipping charges.
What are the dimensions of the EarthBox containers included in this bundle?
EarthBox Original container dimensions are 29" L x 13.5" W x 11" H. It holds 3 gallons of water and 2 cubic feet (60 dry quarts) of growing media.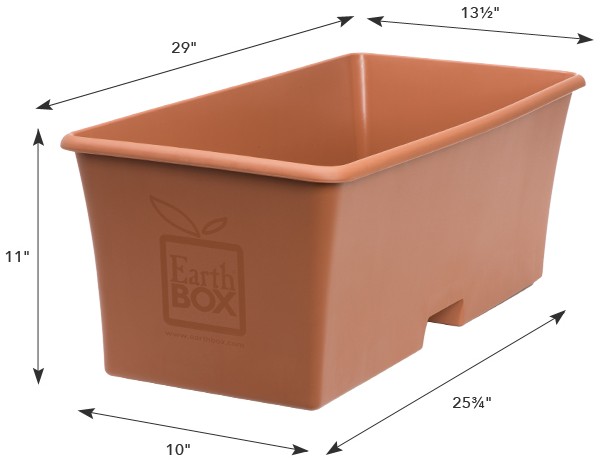 EarthBox Junior container dimensions are 23" L x 9.5" W x 7.25" H. It holds just over 1 gallon of water and 1 cubic foot of growing media.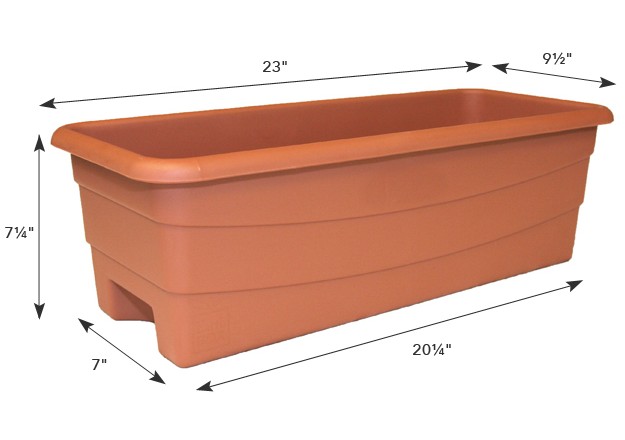 EarthBox Root & Veg container dimensions are 17.75" L x 17.75" W x 15.75" H with a base size of 11.75". It holds nearly 2 gallons of water and 2 cubic feet of growing media.
Do I really need to use the Mulch Cover?
Yes! The Mulch Cover is what protects the growing environment of the entire EarthBox® gardening system. It helps conserve water by limiting evaporation, and it prevents heavy rains from washing away all the plants' fertilizer and nutrients. The Mulch Cover also protects the growing media from weeds and pests. Place the cover on the system before planting and leave it on until your growing season is over and you're ready to remove the plants and clean up the growing system.
Always use the Mulch Cover, even in very hot climates. If your local temperatures are typically in excess of 85° F during the peak growing season, place the Mulch Cover on the system with the white side facing up. This will reflect the sun so small plants don't become stressed from the heat.
For cooler climates where early growing season temperatures may still be too cold for some plants, place the Mulch Cover on the system with the black side facing up. This will attract the sun and warm the growing media to help small plants grow.
How many plants can I grow in the system?
The number of plants you can grow per system at one time will vary based on the type of plant. The included Plant Placement Chart indicates how many plants you need and where to place them. For first-time EarthBox® gardeners, we don't recommend growing more than one type of crop per system.
The Plant Placement Chart is the tried-and-true method for the very best EarthBox® results. With nearly 30 years of success, our researchers and gardening experts have determined the ideal number and position for each type of crop.
Always follow the recommendations in the instruction manual and on the EarthBox® Blog for best results. The age-old adage "less is more" applies to the EarthBox® gardening system; by overcrowding the growing system, you risk crop failure due to plants competing with one another for water, fertilizer, and sunlight.
How will I know when to add water?
A good rule of thumb is to add water every day to the Fill Tube until water starts to flow from the overflow drain. By filling the water reservoir every day, you are ensuring plants always have what they need.
For the first few weeks after transplanting small seedlings to the system, it may seem like reservoir is still very full. Roots are still small and developing so they are not taking a lot of water in this phase. Once more leaves develop and the plants begin growing tall and filling out, they will start requiring more.
On very hot days, or if plants are kept in direct sunlight all day, they may require more water because they are heat-stressed. Plants that bear fruit (tomatoes, peppers, squash, etc.) will need more water than herbs and greens. If you are growing fruiting crops, be sure to fill the water reservoir first thing in the morning, and again later in the day or evening. Tomatoes can take up to 10 gallons per day when they are producing fruit, depending on the variety of the plant and the climate they are grown in—which means you may need to add water 2-3 times per day during this phase.
Do I need to use herbicides, pesticides, or other controls when growing in the EarthBox® gardening system?
You will not need to use any herbicides in the EarthBox® system. The mulch cover is designed to keep weeds out so that your plants have all the fertilizer for themselves to grow healthy and strong instead of competing with weeds.
Pesticides and disease control sprays, whether you choose organic or conventional options, may be beneficial to your plants depending on common garden problems and pests in your area. It is your personal choice whether you want to use these controls. If you choose to use any sprays or powders, always follow the application instructions on the product label.
Disease control sprays can be used to help prevent diseases on your plants when they are used before plants have a chance to acquire disease. Without preventive spraying, plants are susceptible to any number of diseases, which can occur from poor air circulation, infection by the saliva of chewing insects, airborne spores, and more. Once a plant is infected with a disease, there is no cure for it and the spray will aid in slowing the progression only. Always follow the directions on the disease control label.
Pesticides should be used only if you have a known pest in your area that you want to prevent, or your plants have become infested. Keep in mind that many pesticides—even organic ones—can easily wipe out any beneficial insects on your plants in addition to the bad ones. If you choose to use pesticides or disease control products, never spray or dust when bees and butterflies are active, typically in the mornings and daytime hours. Always wait until dusk when there is no insect activity and plants cannot be burned by chemicals from being in the sun. Always follow the directions on the pesticide label.
It is important to inspect plants daily to check for eggs or larvae, insect damage, frass, discoloration, wilting, and overall plant health. A good time to do this is when you are filling the water reservoir. If you see insects or eggs on your plants and you don't know what they are, don't remove or kill them right away. Many beneficial insects will lay eggs, which will help your garden once they hatch; but until they grow into the more easily recognizable adult insects you may be familiar with, you may not know what they look like in other lifecycle stages. Check our Insect Identifier or take a photo and consult a Master Gardener at your county's Extension Service.
Do you ship outside the United States?
We ship internationally to Canada only, which requires contacting us to get a custom shipping quote.
If you wish to order and ship outside the United States or Canada, we recommend using a freight forwarding service such as DHL. All shipments from our facility must be sent to a U.S.- or Canadian-based address.

The EarthBox® gardening system is a low-maintenance, fail-proof design determined to fill the needs of the home gardener of any skill level. Since not all home gardeners live in the same area, there are many challenges to finding the perfect container gardening solution for everyone, but the EarthBox® system does just that. Combining science—and a ton of testing—with great design and American manufacturing, the EarthBox® container gardening system was designed by applying a variety of tried-and-true commercial growing concepts to a small footprint to produce better results than traditional in-ground gardens. The following diagram explains in detail how the EarthBox® growing system components all operate together: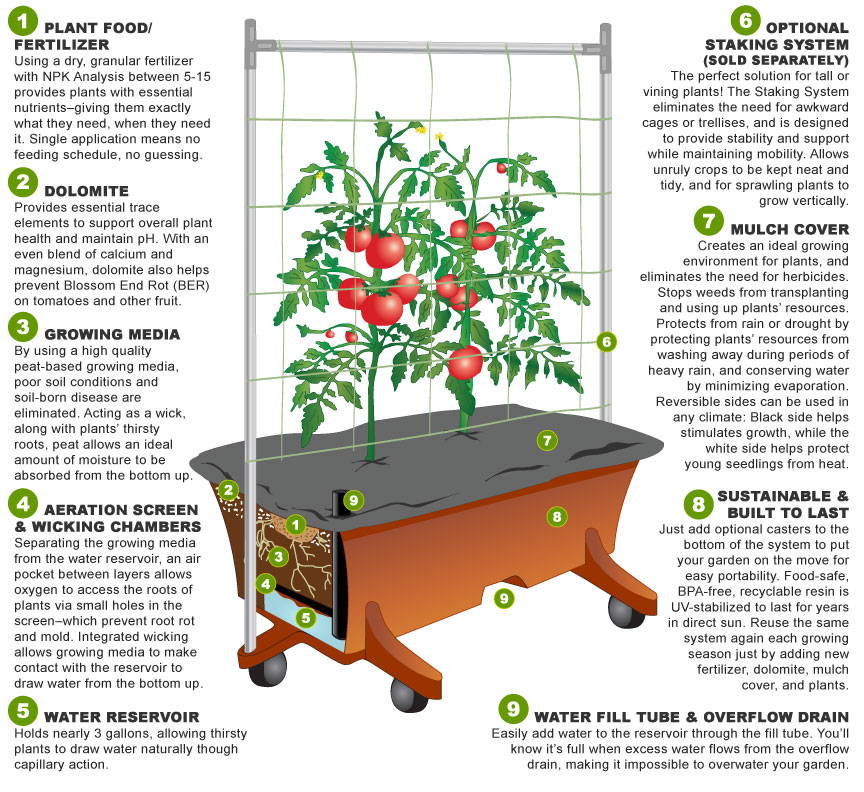 Check out our blog articles to quickly become a container gardening expert!

| | |
| --- | --- |
| Order Total | Contiguous US* |
| | |
| | Varies; use calculator at top of page |
| | |
*All shipments outside the lower 48 United States will be charged a shipping cost.
Handling + Shipping Insurance - This $0.97 fee helps offset the rising costs we're incurring around fulfillment. It also allows us to continue offering free replacements for lost, stolen, or damaged packages. Although shipping carriers are usually the one at fault, they almost always put the burden back on businesses to cover those expenses.
PO Boxes - Please contact us to place an order that ships to a PO box to ensure proper delivery. Failure to do so may result in a longer delivery time and additional shipping charges.
When will I receive my order?
Use the calculator at the top of this page or during checkout to find your estimated delivery date. Orders are shipped directly from our Lancaster, PA headquarters. They're typically processed and shipped within 1-2 business days via FedEx Home Delivery or USPS. You can also view this map from FedEx to estimate how long a shipment will take to arrive to your location after it leaves our warehouse. We do not currently offer expedited shipping options.
For more info, please review our Shipping Policy in its entirety.