---
*** Get a red mulch cover before they're gone for good! ***
One of the key secrets to your EarthBox® container gardening success is the EarthBox® Mulch Cover! In addition to keeping unwanted weeds and some pests out, the Mulch Cover helps conserve water and keep nutrients in, all while protecting your plants' growing environment against the elements. Made from durable, professional-grade agricultural film, it's one of the most important elements of the EarthBox® gardening system.
Red Mulch Cover
In some studies, red mulch has been shown to increase tomato and strawberry production by 12-20%. The red mulch cover reflects sunlight rays to the plant, in turn speeding up the growing process.
Mulch covers last an entire growing season. The red mulch cover is only available for the EarthBox® Junior™ gardening system.
---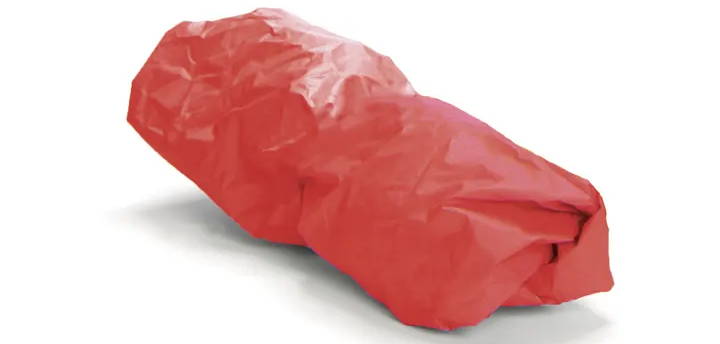 WHAT'S INCLUDED
1 Red Mulch Cover for the EarthBox® Junior™ growing system

---
Do I really need to use the Mulch Cover?
Yes! The Mulch Cover is what protects the growing environment of the entire EarthBox® gardening system. It helps conserve water by limiting evaporation, and it prevents heavy rains from washing away all the plants' fertilizer and nutrients. The Mulch Cover also protects the growing media from weeds and pests. Place the cover on the system before planting and leave it on until your growing season is over and you're ready to remove the plants and clean up the growing system.
Always use the Mulch Cover, even in very hot climates. If your local temperatures are typically in excess of 85° F during the peak growing season, place the Mulch Cover on the system with the white side facing up. This will reflect the sun so small plants don't become stressed from the heat.
For cooler climates where early growing season temperatures may still be too cold for some plants, place the Mulch Cover on the system with the black side facing up. This will attract the sun and warm the growing media to help small plants grow.
Do you have Red Mulch Covers for the EarthBox Original?
Red Mulch Covers are being phased out, and we no longer have Red Mulch Covers for the EarthBox® Original gardening system available. Red Mulch Covers for the EarthBox® Junior™ gardening system are available while supplies last.
How long will the Mulch Cover last?
The EarthBox® Mulch Cover is made from professional-grade agricultural film and is made to last for a single growing season, approximately 3-5 months. Each Mulch Cover is hand-sewn in the U.S.A. with a rubber-based elastic to secure the cover around the edge of the container, which will naturally degrade with exposure to UV light.
If growing indoors, the Mulch Cover will last much longer.
What is the Mulch Cover made from?
The EarthBox® Mulch Cover is made from reversible, professional-grade agricultural film, which is #4 plastic called Low-Density Polyethylene (LDPE). LDPE is food-safe.
Do you ship outside the United States?
We ship internationally to Canada only. We recommend using a freight forwarding service, such as DHL, if you wish to order and ship outside of the U.S. or Canada. All shipments from our facility must be sent to a U.S.- or Canadian-based address.
Customers wishing to ship outside of the contiguous U.S. (AK, HI, U.S. territories, and Canada) will need to contact us during business hours to speak with a Consumer Care Representative who can provide a shipping quote to your destination.

---
Check out our blog articles to quickly become a container gardening expert!

---
| | |
| --- | --- |
| Order Total | Contiguous US* |
| Bundles, Multi-Packs, Stand, & Planting Kit | Included in price; no additional charges** |
| | |
| | |
| | |
| | |
| | |
| | |
| | |
| | |
| | |
*For shipping to AK, HI, US territories, Canada, APO/FPO addresses, and for orders over $1,000, please contact Consumer Care.
**All value bundles, multi-packs, the EarthBox® Garden Stand, and the EarthBox® Planting Kit already include shipping in their price. Please note that you will still be charged a shipping fee against any other items in your cart based on the above table.
When will I receive my order?
All items are shipped directly from our Lancaster, PA headquarters. Orders are typically processed and shipped within 1-2 business days via FedEx Home Delivery or USPS. An estimated delivery date is provided during checkout. You can also view this map from FedEx to estimate how long a shipment will take to arrive to your location after it leaves our warehouse. We do not currently offer expedited shipping options.
For more info, please review our Shipping Policy and Return Policy in their entirety.